On your marks, get set, slime!

Choose from 30 of Nickelodeon's Hall of Fame, incluuding Jojo Siwa, Spongebob Squarepants, The Teenage Mutant Ninja Turtles, the babies from Rugrats, the cool kids from Hey Arnold!, Ren and Stimpy, Lincoln Loud and his sisters, and more! Speed your way across 28 slime filled tracks to win highly coveted cups and over 80 upgrades for your kart! Shift into next gear by challenging your friends in local or online multiplayer and see who can cross the finish line first! On your marks, get set, slime!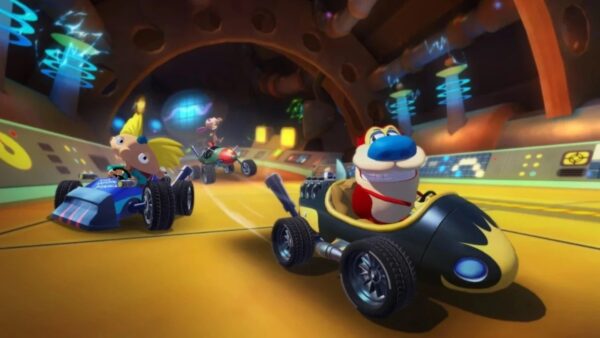 I missed the original Nickelodeon Kart Racers but since it has a Metacritic score of 42, it didn't exactly set the world on fire. The sequel is my first go at playing as the likes of Spongebob and Rocko and was pleasantly surprised with the results.
The tutorial teaches you the basics and while you'd be right for saying they've ripped everything from Mario Kart 8 in terms of controls and even custom karts, it does a competent job of it overall. The real setback is the lack of any licensed music or voice-acting from the characters, which almost makes it feel like someone's made a hack for an older Mario Kart and shoved Nickelodeon 3D models into it.


That being said, the tracks are nicely designed and looks much better than the original, at least it does when I've looked and compared footage of the original and the sequel. MK8 will always look better in comparison, but for those who lack a Nintendo Switch, you could do a lot worse than picking this improved sequel up.
The Verdict
Nickelodeon Kart Racers 2: Grand Prix is a massive improvement from the original, upping the character cast from 12 to 30, decent kart controls, nice customisations and well designed tracks. Sure, it will always live in the shadow of Mario Kart, but for those who don't have a Switch or have got bored of MK8, NKR2 will fill the void.
Score: 7.0