Can Mario deliver a true AR Kart experience?

Mario Kart is one of the most entertaining, addictive racers of all time and there have been plenty of imitators along the years, but none has been close to taking the crown from the Italian Plumber, but could he be losing his grasp with this latest entry?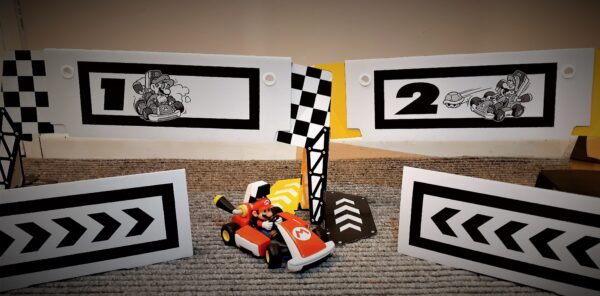 Not really, it's actually something pretty special. The package comes with either a Mario or Luigi RC kart with a camera and cardboard gates and signs that you place and drive through to create your own tracks. It's very simple to set up and it handles incredibly well, definitely the best RC vehicle I've ever used and you can even drift and boost through your living rooms or hallways, wherever you decide to set up.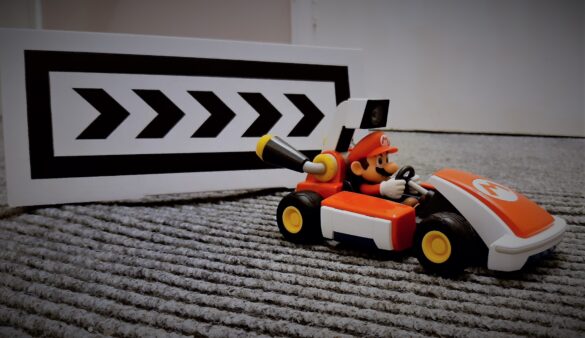 Over here at VG-Reloaded HQ, we don't exactly have the biggest space and we also have thick carpet, 2 areas I thought would cause us major problems with a game like this, as we've tried using lots of remote control toys through here and struggled to get them moving. I can confirm that this is not an issue with Mario Kart Live: Home Circuit, it manages to glide across the carpet with no issues whatsoever. We were all very impressed with this and just what we could make in terms of courses with our limited space. You can get a look at our efforts in the video below:
As with other Mario Kart games, you can play in 50cc, 100cc, 150cc and 200cc but only the first two are available to begin with. You'll need to beat Bowser Jr and the Koopalings across the Grand Prix mode which changes the gates to have filters based on other Mario Kar tracks/Mario levels and even adds a video filter to immerse you more. The video quality of the camera is impressive and it looks great on the Switch.


The big question is will it keep you coming back once the novelty has worn off? It's hard to say since we still haven't been able to put it down since we got it for anything other than to charge it. The Kart itself takes a few hours to charge and lasts around 90 minutes which is impressive when you consider all the tech in it, it's also well designed and looks great even when you're not using it.
The Verdict
Mario Kart Live: Home Circuit is an amazing AR experience with an RC car that works better than anything I've ever seen before. Nintendo has knocked it out of the park again with this and while it's expensive, it'll be the most enjoyed present this holiday.
Score: 9.0