Can snakebyte provide a decent product range for next-gen?

Last month, we reported that games accessory company snakebyte would be making a new range of products for Xbox Series X/S and PS5. We received a few to test out at VG-Reloaded HQ and this review will be updated over time. For now, let's move on…
First of all, we took their 2 meter long HDMI 2.1 cable HDMI:CABLE SX PRO™ 4K/8K out for a spin and it's naturally a bit longer than the cable that comes as standard with the Series X/S and has a black and green mesh going around the cable. It feels durable and will naturally appeal to those who want a slightly longer cable. I sadly lack an 8K TV and while I have a QLED TV, it lacks 120fps support as it's an older model, so I was unfortunately able to try out those specific features. That aside though, I was able to test it for the 4K features and It was just as decent as what came with the console.


The PS5 version known as the HDMI:CABLE 5 PRO is the same product, but in a different colour and is made of the same material and can confirm it is just as functional and durable.
So perhaps not the most essential item, but worth it if you need a longer cable or if you end up needing a replacement and is reasonably priced at £19.99.
Score: 8.0
——–
Next up we have the HEAD: SET X that can be used on Series X/S via the 3.5mm audio jack on the controller for the console (or any device that uses a audio jack, to be fair). It has the black and green design of the Series X, it's foldable and also comes with a detachable mic and even a holder with an adhesive strip you can place anywhere so you can hang up your headset when you are done with it. The sound quality is seriously impressive and it's very comfortable to wear and best of all, it's incredibly cheap at £17.99.
Honestly, I was blown away by the sound quality for the price tag. I will say that the headphone muffs have come off a few times and it doesn't feel like the sturdiest piece of plastic going around your head, but it's managed to hold up remarkably well so far.
I will say that the PS5 equivalent known as the HEAD: SET 5 is essentially the same product but in a different colour scheme and I've also tried this out just to be 100% sure of this. You can use that on any audio jack device as well so it's more a case of what colour scheme you like more as either will work on your consoles.
Score: 8.0
————-
That's all for now. We should have more reviews for snakebyte products including the CHARGE&DATA:CABLE 5and the CHARGE:CABLE 5 PRO. At time of writing I've been very impressed with the quality of snakebyte's products and look forward to seeing what else they have.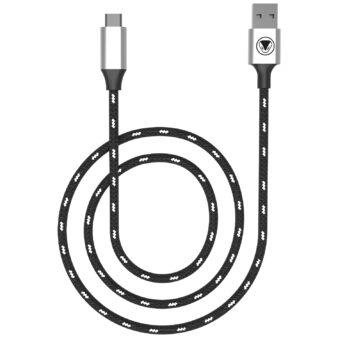 I have been using the PS5 for the past few days with both the CHARGE & DATA CABLE 5; 2M CABLE and the CHARGE: CABLE 5 PRO and and can confirm they are great for your charging and data transferring needs, should you have a device that is compatible with it. The quality of the cable is the same as their brand of HDMI's, so its durable and they are obviously much longer than the standard cable that comes with the PS5. An essential purchase in my opinion.
Score: 9.0
Above is the TWIN-CHARGE SX which charges your Xbox Series X/S controllers. It comes in Black or White and comes with 2 battery packs. I've been using these for a while now and it works like a charm, slotting in very easily and lighting up to tell you when they are fully charged. The colour schemes and design match the Series X/S and look great overall. It retails for £29.99 and is easily worth the cash.
Score: 9.0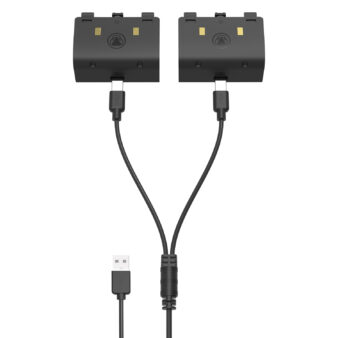 If you don't want a docking station for your Series X/S, then the BATTERY: KIT SX might be for you. It's essentially two battery packs that come with a USB cable that can charge two at once. It's less intrusive as the docking stations, so it's really down to choice. It also comes in Black and White and costs £19.99.
Score: 8.0
Our final snakebyte product is the TWIN: CHARGE  5 for the PS5…
This can plug in any USB outlet and charge both your DualSense controllers. It matches the design of the PS5 and looks great. You don't even need to plug in the controllers via the slot at the top like you would think, instead they charge from the bottom just by locking into place. It took me a while to get it right, but it's easy enough once you've done it a few times. The lights change from orange to blue when charged and works a treat. It costs £19.99 and I think is easily an essential purchase for PS5 owners.
Score: 10