Seek my Gaiden-ce and see if this collection is worth getting…

Three extremely high speed and intense ninja action games are now available in one package. Enjoy 3 games from the NINJA GAIDEN series in this single collection. The nostalgic yet timeless high-speed action of the series unfolds on the latest hardware, so look forward to heated battles with fearsome opponents. In addition to Ryu Hayabusa, the 4 female characters Ayane, Rachel, Momiji, and Kasumi are also playable. Pair up favorite characters, and switch between characters during battles. The heroines included in this title are the same as the original versions. In addition, the characters that are playable and scenes (modes) vary for each title.


The Ninja Gaiden games are some of the hardest in videogame history, I had the original on Xbox and never managed to finish it but got somewhere towards the latter stages, so I was happy to come back to it and try to overcome where I stumbled years ago…
The good news is that the games come with an Easy mode so dying is pretty tough to do, but the game itself is still tough as nails even with this enabled. It's good practise though if you want to attempt the harder difficulties like some kind of masochist. The games all run great on Series X with a nice steady framerate, but that's essentially all that's in this collection. No updated visuals or quality of life enhancements, it's essentially a repackaging of the PS3 versions of the series.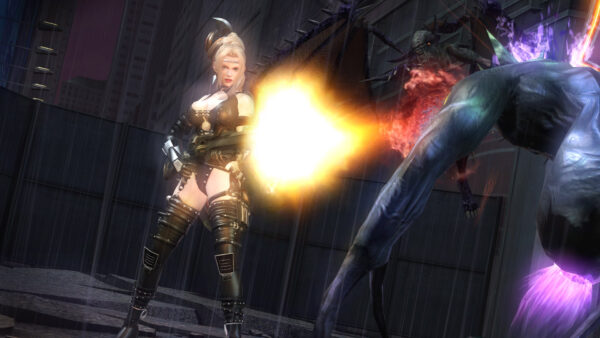 I can't help feeling that the collection would have benefitted so much more from a proper remaster instead of this simple collection that runs slightly better than the original. Some would say that the versions that exist already run just as good on backwards compatibility, so it's a pretty hard sell. The only difference is that we finally have achievements for the original game, something that will please achievement hunters, but it just doesn't feel like enough of an effort has been made with this collection.
The silver lining is that the collection does come with all previous DLC packs and isn't going to hurt your wallet too much as the Standard version is £32.99 and despite a lack of actual improvements to the games, there's a huge amount of content here. Hard as it comes but satisfying all the way through at least the first two entries. The third game is still good, but it doesn't come close to the quality that the first two games delivered.
The Verdict
A great collection of games held back by a lack of additional polish to the pre-existing versions makes this a hard sell for those who already own the games. If you are new to the series, however, now is the best time to dive into it.
Score: 7.0