Yagami's back for more justice/violence in this sequel…
Lost Judgment once again puts players in the sneakers of lawyer turned street-fighting detective Takayuki Yagami. Joined by his partner, ex-yakuza Masaharu Kaito, the crime-fighting duo is called on to investigate a seemingly perfect crime whose lead suspect has an airtight alibi.  What starts out as a tale of revenge reveals a tangled web of conspiracy involving several unlikely factions taking advantage of a broken law system. But as victims pile up and Yagami unravels the truth, he must choose between defending the law or exacting justice.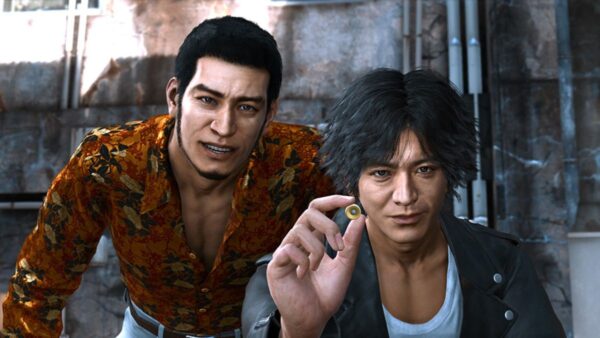 I've been a fan of the Yakuza series for a while now and know that the switch from the standard combat to the turn-based style from "Like a Dragon" divided fans, but ultimately, I love both which is why I was pleased that the spin-off Judgment maintained the original style and so in turn has its sequel "Lost Judgment" which while still a spin-off, still has Ryu Ga Gotaku's DNA flowing through it.
If you've played Judgment then you'll feel at home with how the game handles as you not only fight, but also gather clues, sneak and so on. You'll visit both Tokyo and Yokohama in the sequel so it kind of bridges the gap between Judgment and Like a Dragon, which Lost Judgment is set after and in turn becomes the latest game in the overall timeline. The Tojo Clan and Omi Alliance were disbanded but now there are still ex-Yakuza's out in the streets causing trouble, just without leadership.
The cities you explore will be familiar to those who have played past Yakuza games and the activities like the baseball centre and SEGA arcade are still there to enjoy, but this time you can also grab a SEGA Master System for your office and can play these classics:
Alex Kidd in Miracle World (1986)
Fantasy Zone (1986)
Penguin Land (1987)
Quartet (1987)
Enduro Racer (1987)
Woody Pop (1987)
Maze Hunter 3-D (1988)
Secret Command (1986)
Sagaia, also known as Darius 2 (1989, 1991)
Fantasy Zone II: The Tears of Opa-Opa (1987)
Alien Syndrome (1987)
Global Defense (1987)
Lost Judgment's combat has been more refined from the last game and has a lot of depth to it overall. There are a lot of familiar elements with the gameplay and while there are new additions to the overall detective gadgets, it does feel more of a small leap forward than a big one.
Despite this, the game still has the classic Yakuza humour in its side-stories and the main story is also impressive, dealing with issues like sexual assault and bullying like I wouldn't expect from the series. It's still full of crazy over-the-top moments, but Lost Judgment manages to keep it in balance with the dark tone.
In terms of visuals, Lost Judgment looks incredible on PS5 with highly detailed characters and great looking cities. The DualSense features also add extra depth to the game well, while the voice-acting both Japanese and English are impressive.
The Verdict
Lost Judgment is a great sequel to the Yakuza spin-off, adding in small improvements to combat and gameplay while tackling difficult subject matter. Ryu Ga Gotaku proves it still knows what its doing and I can't wait to see what's next for the Yakuza-verse…
Score: 8.5