Is this a Director's Cut worth upgrading for?

Ghost of Tsushima Director's Cut includes: Ghost of Tsushima full game; Iki Island expansion: New story, mini-games, enemy types and more*; Legends online co-op mode; Downloadable content: Digital mini art book, Director's commentary, One Technique Point, Charm of Hachiman's Favor, Hero of Tsushima Skin Set. PS5 Features: Dynamic 4K resolution targeting 60fps (requires compatible 4K TV or display). DualSense™ wireless controller haptic feedback and adaptive trigger resistance. 3D Audio (with analog or USB stereo headphones). Lip sync for Japanese voiceover. Ability to transfer PS4 saved progress to PS5 game.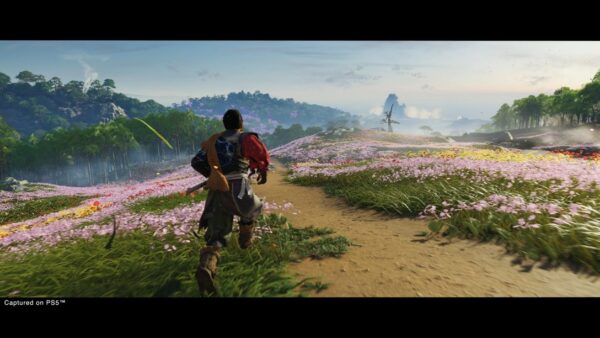 I'm ashamed to admit that I missed out on Ghost of Tsushima when it launched on PS4, so the PS5's Director's Cut seemed like a no brainer. I've spent a good while going through the main story and the newly added Iki Island expansion and can see what the fuss was all about. I know that fans have been angry at the upgrade cost from their PS4 versions, but it does include the new expansion and that's more than worth the price.
The PS5 upgrades themselves are also superb with DualSense support, next to no load times on quick-travel and running at mostly 60FPS at 4K. It's easily one of the best-looking games I've seen and that was before I even dived into the extra things like Iki Island…
Iki Island is a whole new area to explore and has new places to liberate from the Mongols as well as new abilities such as your horse now being able to charge right through enemies (at the cost of your resolve) and new activities like archery challenges or rescuing monkeys and playing them a calming tune from your flute by moving the DualSense in a mini-game. It's definitely more challenging thanks to enemies that can buff the others until they are defeated and the others can seem to switch to different fighting styles mid-combat, meaning you'll need to change your fighting stance to keep up with them.


If you're a first-timer to Tsushima like I was, then you're in for an absolute treat. It's definitely a game that I will go back to for the rest of the trophies when I get a chance. It's easily the best game from Sucker Punch to date and I really hope we get a sequel at some point.
The Verdict
Ghost of Tsushima: Director's Cut is an incredible game in its own right, making improvements to the original while adding a whole new area to explore. Regardless of however you get hold of the new content, it's worth the price and your time spent on this incredible game.
Score: 9.0