The iconic duo are back for another beat-em-up…
With Slaps And Beans 2 we're ready to take you on a brand-new adventure, together with Bud Spencer and Terence Hill. The new episode includes many features: more challenging enemies, new locations and more original soundtracks directly from the movies! In addition, the combat system has been improved, the pixel art graphics are more detailed and we have added new play modes, with a solo/coop story mode and a party game mode for up to 4 players.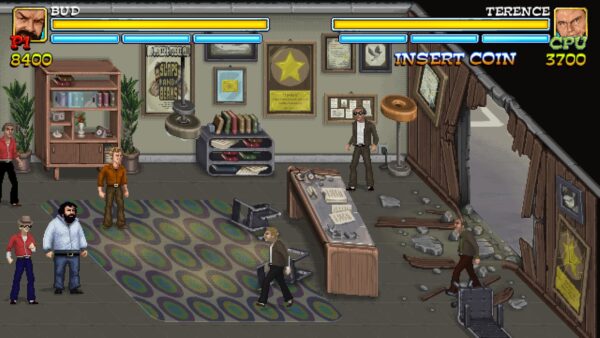 As much as I hate to admit it, I had never heard of Bud Spencer and Terence Hill before this game. I didn't realise there was a lot of history to this duo going as far back as the 1970s, but for fans of that I'm sure they will enjoy this homage to their movies in beat-em-up fashion.
In terms of your typical beat-em-up, Slaps and Beans 2 does a good job in ticking all the boxes that you would expect. That being said, that's kind of where it stays….while it doesn't do much wrong, it doesn't do anything that makes it stand out from the crowd. The mini-games are amusing at first but there is definitely a limited replay value to be found here.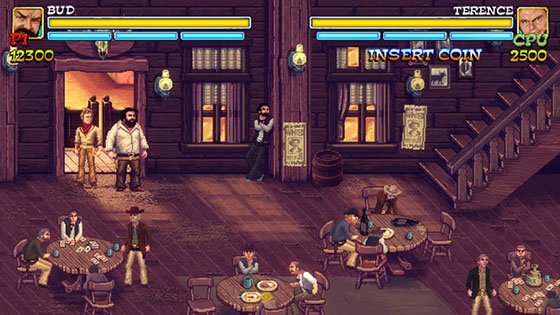 There are plenty of funny moments to be found either through pixel-related comedy or just banter between Bud and Terence. It reminded me of Monkey Island-esque humour at times, but it's not the sort of thing you'll want to see and hear time and time again. Despite this, the game works for the most part and while the combat itself is average, the pixel art is the real star of the show.
The Verdict
Bud Spencer and Terence Hill are not two names I was familiar with, but I'm tempted to have a look at their back catalogue of films after playing Slaps and Beans 2. Fans of the duo will surely love this, but otherwise it's your average beat-em-up with limited replay value.
Score: 7.0