Don't Stop Me Now, I'm Writing A Review…

I'm a huge Queen fan so getting a karaoke game of their top hits is right up my alley, even though I know I cannot sing to save my life, I always enjoy a good sing song every now and then. The Let's Sing series has been going on for a while now and with the seemingly demise of SingStar, you can assume that it's the only game in town now. But first things first, what is the tracklist?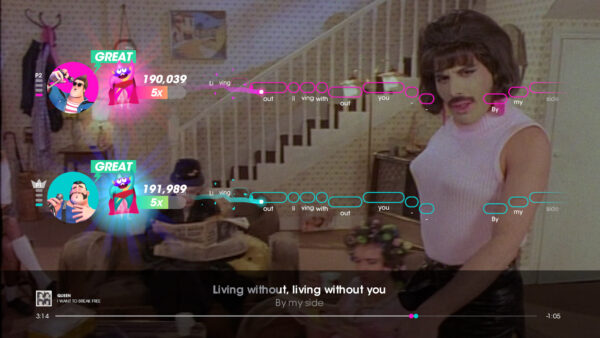 Full Tracklist:
• A Kind of Magic
• Another One Bites The Dust
• Bicycle Race
• Bohemian Rhapsody
• Breakthru
• Crazy Little Thing Called Love
• Don't Stop Me Now
• Fat Bottomed Girls
• Good Old Fashioned Lover Boy
• Headlong
• I Want It All
• I Want To Break Free
• Innuendo
• It's A Hard Life
• Killer Queen
• Now I'm Here
• One Vision
• Play The Game
• Princes Of The Universe
• Radio Gaga
• Save Me
• Somebody To Love
• The Invisible Man
• The Show Must Go On
• Tie Your Mother Down
• Under Pressure
• We Are The Champions
• We Will Rock You
• Who Wants To Live Forever
• You're My Best Friend
As you can see, all their top hits are here but there are a few missing classics like Seven Seas of Rhye, Love Of My Life, These Are The Days Of My Life, Friends Will Be Friends and of course, Flash. Still, the bulk of the Queen library is here and I always find myself singing the likes of Who Wants To Live Forever and Bohemian Rhapsody. The great thing about Let's Sing is that you can play it even if you don't have any mics as you can use the Let's Sing App on your Android/iOS phone and while I can't confirm if it's just as accurate, it worked decently enough for me.
Classic mode works like the you would expect, pick a song and go for it. Feat mode lets you play co-operatively, while World Contest pits you against online leaderboards. Mix Tape 2.0 throws you to the wolves with a different mix each time, Jukebox lets you play multiple songs and Let's Party pits two teams of upto 4 against each other.


The really confusing thing about Let's Sing Queen though is the small trophy list, there are only a handful of them and there's not even a Platinum. I would have called the platinum trophy "The Great Pretender" since you've achieved pretending greatly to be Freddie Mercury, but that's neither here nor there as complaints go.
The Verdict
Let's Sing Queen is the perfect collection of the best Queen songs in one package and while it may be missing certain songs, it has plenty to keep fans occupied with the tracklist and co-op/competitive modes.
Score: 8.5