Christmas Critters

The Book of Unwritten Tales: The Critter Chronicles is a prequel to July's "The Book of Unwritten Tales" and tells the story of how Nate met Critter. I never played the original game so this is my first entry into the series and I have to admit, I didn't know what to expect at first but the best way to describe it as a humorous point and click adventure that feels from the world of Monkey Island. The settings are great, although the puzzles themselves are frustrating at times and might put gamers off from continuing.


It's quite a short adventure too, but its memorable in its own way. Nate does come across a buffoon to begin with, quite like Guybrush Threepwood in that regard…but after a while, I began to warm to him as a character. It can be a little difficult to tell what you can and cant interact with, but luckily holding down the space bar will highlight the objects that can be used. The solution to puzzles don't exactly reveal themselves so chances are you will probably end up resorting to looking for a guide online, which kind of defeats the purpose of a point and click adventure game.
The thing that carries the game through these troubles is the comedy aspect, there are some truly hilarious moments throughout and its convinced me to get the original game on Steam. There are also Steam achievements for you to get if you are so inclined to earn them. It's not the best point and click game there is, but it does follow the formula well for the most part, I just wish the puzzles weren't as frustrating as they are.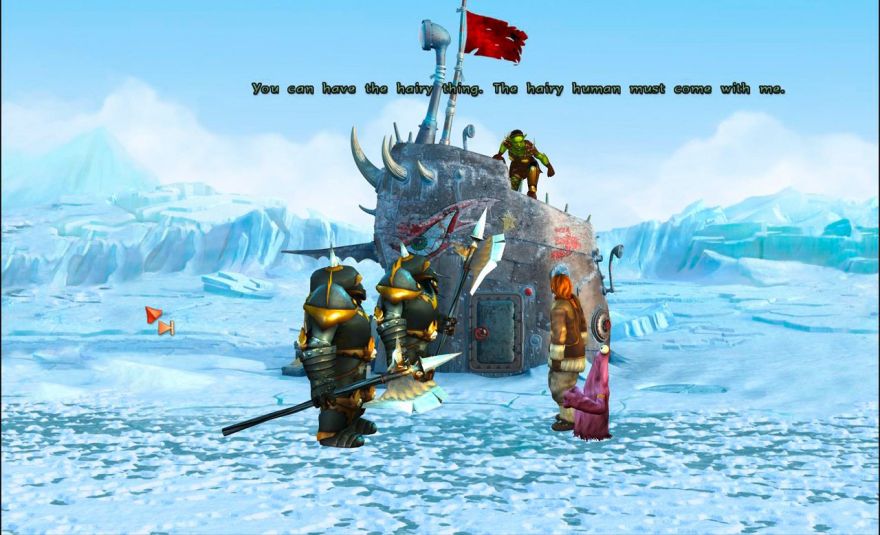 In terms of visuals, The Critter Chronicles is a nice looking game, although oddly it doesn't stretch to 16:9, even on a high resolution like 1920×1080, it almost does but not quite. The voice-acting is great for the most part with some hilarious dialogue, while the music is also fairly decent overall.
The Verdict
The Book of Unwritten Tales: The Critter Chronicles is a good point and click adventure with plenty of humour, its just a shame that the puzzles aren't that great and are awkward in their design. Overall though, it's hard not to recommend for anyone who loves these types of games.