Should you book a room in this Hotel simulation?

After the huge success of the first edition of Hotel Giant, the million-selling game is back with a new and deeply upgraded luxurious sequel. Recruit, train, and manage your employees while controlling the hotel budget. Continuously enrich your hotel's services, and finally build your most prestigious hotel in town!
Carefully watch your hotel's clients, analyse their expectations or needs, and satisfy all their desires and whims! Beyond stats, figures and graphics, what makes Hotel Giant 2 unique and so immersive is the fact that you have to observe, track, and stimulate each client and employee to make good decisions!
More than 1400 items to design your hotel: furniture, equipment, design, type of restaurant, bars, spas, health centre, gaming rooms, room decoration. Almost everything is possible and customisable to improve a room's standing! You can choose what kind of food your clients will eat, or select the right music group to light up the bar, feel free to use your personal touch.
Select the hotel of your dreams among 26 unique choices, and as a hotel manager make your resort the best!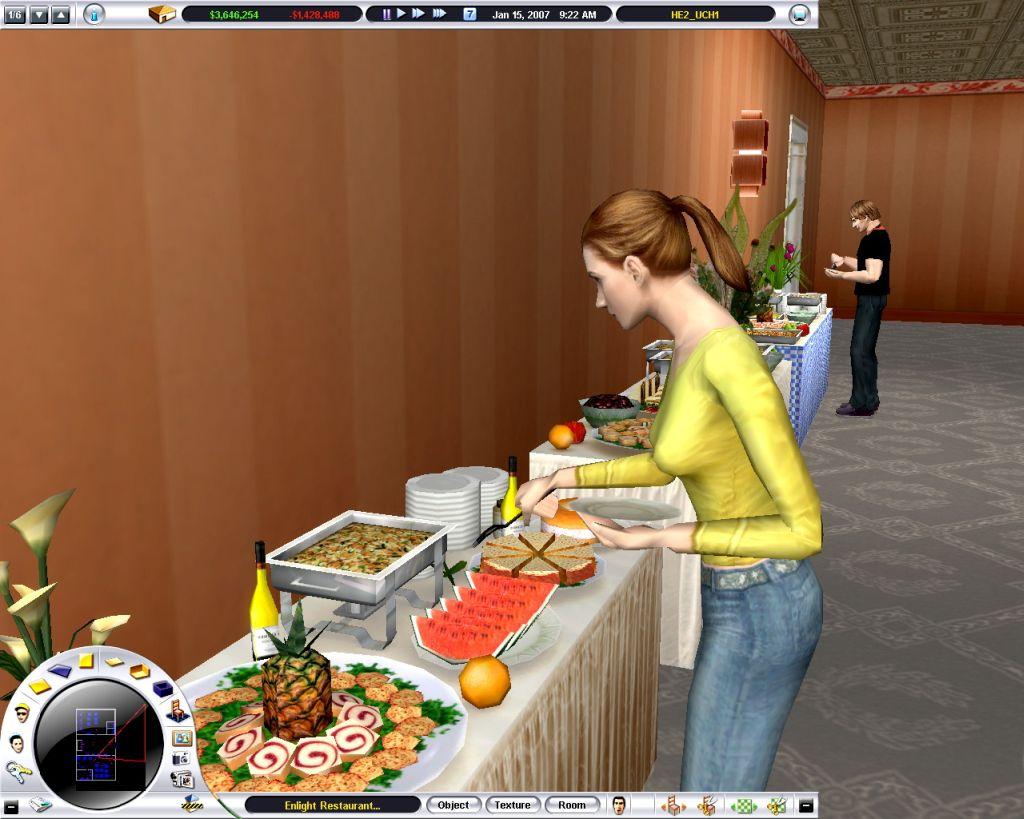 Simulations. The genre has a wide variety of possibilities from running a second life, to running a theme park or hospital; it seems that we'll never see the end of them. Here comes a sequel to Hotel Giant, which apparently sold over a million copies. How did it sell that much? Well, I have no idea but I do know that the simulation genre has many fans, so it's not entirely impossible…it just sounds unlikely, even though it is true.
Hotel Giant 2 offers you the chance to design and run your own hotel, there's a campaign mode which sets you up in a new hotel and you must try and please everyone, while trying to turn a profit. In today's economic climate, it seems difficult to imagine that anyone is turning a profit…so if you do, you are the minority. Of course, the game hasn't been designed with the recession in mind…as it would make the game virtually impossible.


As with most simulations, Hotel Giant 2 lets you know what your customers like and what they are complaining about. So if they want a bigger room, you have to give them it to please them. If they want a drinks machine in the lobby, then they should get it. It's fairly simple stuff and it's nothing that hasn't been done before in other simulations. The idea of running a hotel sounds terrifyingly difficult, but Hotel Giant 2 almost makes it look easy. This isn't exactly good business sense if people suddenly become inspired to become a hotel manager because they were good in Hotel Giant 2.
Unfortunately, the game will not run in my favourite resolution of 1920×1080 and for some reason, only offered me 2 different resolutions which were fairly small when shown on my monitor. Sadly, this is another budget game that doesn't even allow custom resolutions…which is a shame. Visually, Hotel Giant 2 does look fairly good, but it sadly can't compete with the likes of The Sims and SimCity. The music fits the overall hotel theme well, but it can be annoying at times.
The Verdict
Hotel Giant 2 isn't the greatest simulation, but it does the job well. Things run smoothly and the game is easy to play, it just doesn't have many exciting things to do. Fans of the original will love the sequel, but for the rest of us…we will wonder what the fuss is all about.