Latest press release and linkage to the March issue of Thirteen1…

Thirteen1 – Press Release, Hull, Friday 13th March 2009…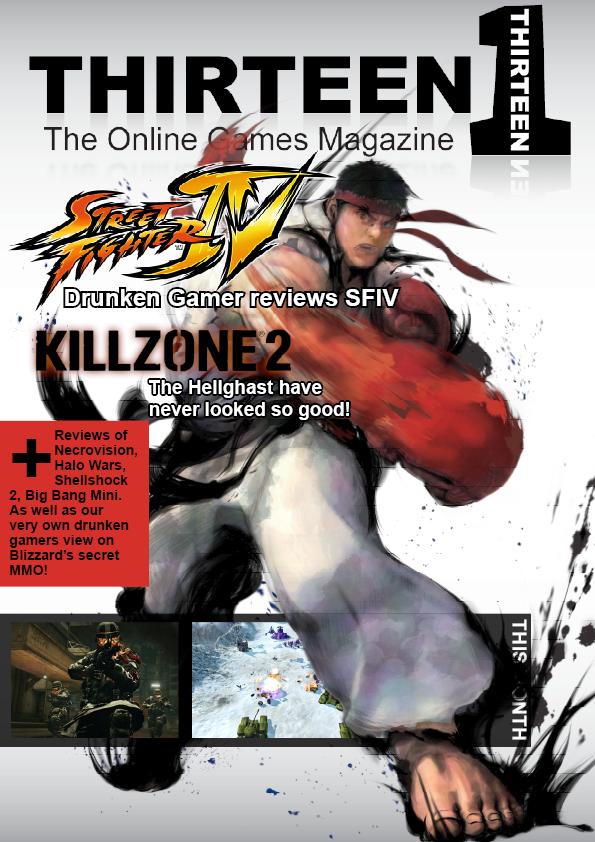 Thirteen1: The Online Games Magazine – March Issue Available Now!
http://www.thirteen1.com/Issues/mag.php ← go here now to skip the below text and dive straight into the latest edition of Thirteen1!
With Spring coming thick and fast the T1 team have somehow resisted the better weather and remained inside, locked in a small, windowless room, to bring you the titles you need to be getting your hands on, and those you should avoid at all costs!
Let's be honest, they had no chance of seeing any sunlight with Street Fighter IV hitting the shelves, a game so highly anticipated that Paddy The Drunken Gamer has apparently been giving constant "HADOUKEN!"'s around the office since it was announced. He swears he'll get it right one day and manage a 'real-life' Ryu-type blast. We're staying clear…
He simply had to review it! So, you can expect a thorough look at Capcom's latest instalment in the SF franchise tucked away in the latest issue!
They also managed to kick Covenant ass Halo Wars, Ensemble's RTS take on the mega-popular Halo franchise, get down and dirty in the zombie-ridden trenches of Eidos' ShellShock 2: Blood Trails, and then went back in time a few years to play the exact same scenario again in 505 Game's Necrovision.
You can expect a review of potential genre-defining FPS Killzone 2 on the PS3 too. Does it really live up to the hype?
There's loads of other delights tucked away in the latest issue, which also marks the start of their brand new regular Breaking Into The Industry feature, which will help you – yes, you! – get a job in gaming with top tips from industry professionals.

Free comps and Giveaways too!
Thirteen1 has bags of prizes for you to get your hands-on this month!
There's 3 copies of SouthPeak's casual firework hit Big Bang Mini up for grabs, along with a Nintendo DS to play it on!
The folks over at SteelSeries are giving away some awesome WoW goodies, and Kalypso Media have provided 3 copies of Ceville!
Visit Thirteen1 to read the March 13th issue now!
-Thirteen1 Team.