PS4 Review: SingStar: Ultimate Party
To quote Pet Shop Boys: "What Have I Done To Deserve This"…

Don't think that I dislike SingStar. Nothing could be further from the truth, before I became a parent and sleep was more important than belting out a tune at midnight, I did just that. However, the PS4's first entry for the series is a serious backstep. But before I get into that, check out the tracklist:

• 5 Seconds of Summer – She Looks So Perfect
• Avicii – Hey Brother
• Bridgit Mendler – Ready Or Not
• Carly Rae Jepsen – Call Me Maybe
• Clean Bandit Feat. Jess Glynne – Rather Be
• Coldplay – Magic
• Demi Lovato – Let It Go
• Disclosure Feat. AlunaGeorge – White Noise
• Ed Sheeran – Lego House
• Ellie Goulding – Burn
• Icona Pop Feat. Charli XCX – I Love It
• John Newman – Love Me Again
• Kylie Minogue – Can't Get You Out Of My Head
• Lady Gaga – Born This Way
• Lionel Richie – Hello
• Lorde – Royals
• Naughty Boy Feat. Sam Smith – La La La
• Olly Murs – Dear Darlin'
• One Direction – Best Song Ever
• One Republic – Counting Stars
• P!nk Feat. Nate Ruess – Just Give Me A Reason
• Paramore – Still Into You
• Pet Shop Boys & Dusty Springfield – What Have I Done To Deserve This?
• Pharrell Williams – Happy
• Plan B – She Said
• Selena Gomez – Come And Get It
• Swedish House Mafia Feat. John Martin – Don't You Worry Child
• The Lumineers – Ho Hey
• TLC – No Scrubs
• Train – Drive By
Now there are a few good ones there and some very not-so-good ones…*ahem* Carly Rae Jespen, One Direction but it is a shorter list than you would expect. This is the first entry that allows you to use your smartphone as a mic, just in case you don't have one or don't have any spare. The problem is that the app itself isn't that great at picking up your voice, it's just not in the same league as using a mic.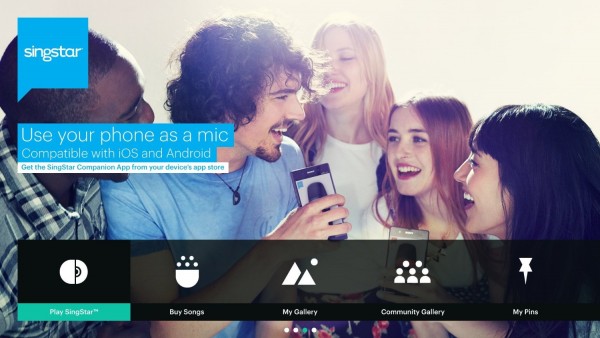 On top of that, there's only the option for 2 players at once. Which seems like a huge misfire considering the potential with the App (when it works) as well as a lack of variety when it comes to modes. It just seems to skimp on features and playlist variety and feels like it was severely rushed to make it in time for the holidays. The problem with that is the tracklist isn't that great and while you can transfer your digital purchases across from past SingStar games, you can't do so with the disks that you already have. To its credit, it does have nice menus that are easy to navigate…but that's its only redeeming feature.
The Verdict
With a complete lack of variety, a flawed companion app and an average-to-awful tracklist, there's very little reason to attend this party.