PS4 Review: Marvel's Guardians of the Galaxy – Episode 5: Don't Stop Believin'
Can the Guardians save the Galaxy once more?

And so, it's come to this…the first season finale for Telltale's Marvel's Guardians of the Galaxy series. We've come a long way through conflicts, emotional journeys, twists, sacrifices and now the fate of the galaxy itself is on a knife edge after the penultimate episode which saw either Drax or Groot sacrifice themselves to escape the giant worm which the Milano was swallowed up by.


The group was scattered as a result, I only had Rocket to keep me company before being approached at the bar by Hela's son who was resurrected by the Eternity Forge. The finale focuses on reuniting the group before taking on Hela before she destroys Knowhere and whoever gets in her way to resurrect the entire Kree army. There's still time for wise cracks and the like that the series is famous for, while the final scenario makes Star-Lord choose which Guardians are assigned to what task as they board Hela's ship.
The episode is on the short side, but it does wrap things up nicely and potentially gives you a difficult decision to make at the end. It's hard to say if we'll get a second season of Guardians of the Galaxy, but if so then this final choice could make things interesting to say the least.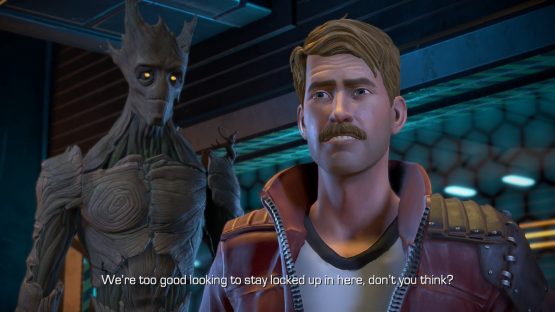 Visually, the episode is as strong as past entries and performance is fairly strong in terms of framerate. Voice-acting has been strong throughout and the voice-acting has been great, while the music is classic 80s tunes and superb. It's been a great ride overall and I hope this is the first stop of many for the series…
The Verdict
Episode 5 brings everything to a close, but also opens up new possibilities plus a hint at a second season post-credits, which I hope pans out. It's been a wild ride and one that I hope we get more of.
Score: 9.0