Xbox Transforms Liechtenstein For Halo 4 Launch
Liechtenstein's landmarks taken over by Master Chief…

LONDON, 31st October 2012 – In a ground-breaking world first, Xbox 360 yesterday became the only brand to ever transform the Principality of Liechtenstein by taking over some of the country's most iconic landmarks, including a 13th century castle and a working mine, to create a real-life replica of the "Halo" universe within the heart of Europe to mark the launch of "Halo 4".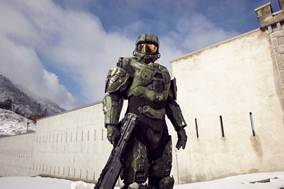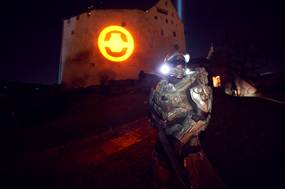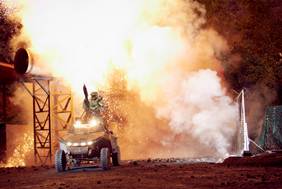 For one day only, the mountainous landscapes of the normally tranquil Liechtenstein countryside became a stage for an epic sci-fi saga as Xbox 360 created a mysterious alternate universe inspired by the video game franchise which has sold a staggering 46 million copies worldwide since launch in 2001.
Super fans and worldwide media from 16 different countries were catapulted into this off-world environment to take part in a theatrical experience which saw them travel to a top secret location before being unexpectedly thrust into a war zone which recreated brutal battle grounds through pyrotechnic explosions, thunderous sound effects and cinematic set builds.
""Halo" is a $3 billion blockbuster franchise which has shaped entertainment history and defined a generation of gamers," said Chris Lewis, Vice President, Interactive Entertainment Business, Microsoft EMEA. "From the world's first ever red-carpet premieres for a video game to sending a man strapped to a jet-pack 50-foot above London's iconic skyline, "Halo" launches have continually broken the mould and we are back with a colossal bang for "Halo 4", transforming a country on the biggest scale imaginable".
"Halo 4" is the start of a new saga in the "Halo" story which is set to cause a sensation when it hits stores on Tuesday 6th November 2012. Acclaimed film director David Fincher, the creative visionary behind Hollywood thrillers such as "Fight Club" and "The Girl with the Dragon Tattoo", produced an action-packed launch trailer for the game and American talk show host Conan O'Brien and actor Andy Richter are voicing two of the game's characters. The "Halo 4" Original Soundtrack was composed by award-winning producer and composer Neil Davidge, long-term co-writer and collaborator for music production outfit Massive Attack.
Transforming Liechtenstein
Xbox 360 worked with the government-owned Liechtenstein Marketing, which promotes Liechtenstein as a tourism destination and a place to do business, to transform the country. The unique makeover included:
· Reimagining a 13th Century Castle – standing on a 70-metre high spur of rock, Gutenberg Castle, one of the most important historical landmarks of Liechtenstein, took on a new guise as a futuristic military fortification where guests become among the first to play "Halo 4"
· Overtaking an entire quarry – a working mine became a jaw-dropping arena for sci-fi adventure, with an appearance from the hero of "Halo 4", the Master Chief, amidst a series of pyrotechnic explosions
· Creating a Military Camp in the countryside – a local farmer's field become a post-apocalyptic battle ground
· Finishing touches included the use of bespoke props, special effects and pyrotechnics
· Immersive theatre –15 actors took guests on a two-hour adventure which involved decoding a series of cryptic clues to help save mankind from extinction by fighting off the threat of an attack
Be sure to look out for our Halo 4 review tomorrow!