Xbox Series X/S Review: The Dark Pictures Anthology: The Devil in Me
Can you survive the modern-day Murder Hotel?
A group of documentary film makers receive a mysterious call inviting them to a modern-day replica of HH Holmes' 'Murder Hotel'. But on arrival the crew soon discover they're being watched and even manipulated, and suddenly there's much more at stake than just their ratings!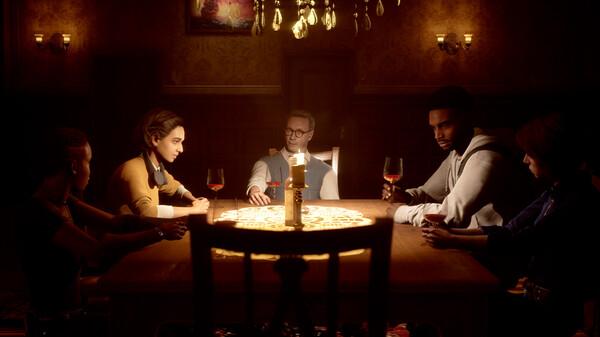 The Devil in Me is the latest entry from Supermassive Games series "The Dark Pictures Anthology" and as with past entries, this isn't connected to the past ones in anyway other than the Curator popping in every now and then to check on your progress. Those who haven't played any of the series so far can drop in from any game as a result, which is nice for newcomers.
The formula follows the rest of the games in the series or Until Dawn/The Quarry where you make decisions that will either make your characters live or die. These can be simple like failing a QTE or some you wont know the consequences of until much later. You will find a few clues that will help you try to avoid a deadly fate, but these can be obscure and you may not entirely understand until it's too late.
Past games in the series have been focused more on supernatural elements, while The Devil in Me goes in a more realistic direction which acts to round up the "first season" of the anthology. The decision to do this pays off with a tighter script and decent acting across the cast. The game isn't as long as say Until Dawn or The Quarry, but it is a decent length and personally my favourite in the series so far.
Replaying the game to get different endings is one of Supermassive's selling points for any of their games and it doesn't disappoint here. The game also has a few good jump scares, while not laying it on too thick or cheaply.
The visuals are the strongest yet with superb character models, highly detailed locations and plenty of lovely gore to boot. The voice-acting is pretty good too with believable characters and the soundtrack has some great dramatic tunes to add to the tension.
The Verdict
The Devil in Me works brilliantly as the season finale for Season 1 of The Dark Pictures Anthology. It has smarter writing, good quality of life improvements over past entries and ultimately is just another great game from Supermassive. I can't wait to see what they can do with Season 2…
Score: 8.5