Xbox One Review: Strange Brigade
Tally ho chaps!

Egypt, the 1930's. Erased from ancient history and buried in a nameless tomb for 4,000 years, Seteki the Witch Queen has risen once again. Only one troop of daring heroes can stand against the fearsome power of Seteki and her army of mummified monstrosities: The Strange Brigade! Explore remarkable ruins, solve perilous puzzles and uncover tantalising treasure while blasting your way through an array of undead enemies in thrilling third-person action that's certain to bring out your inner adventurer!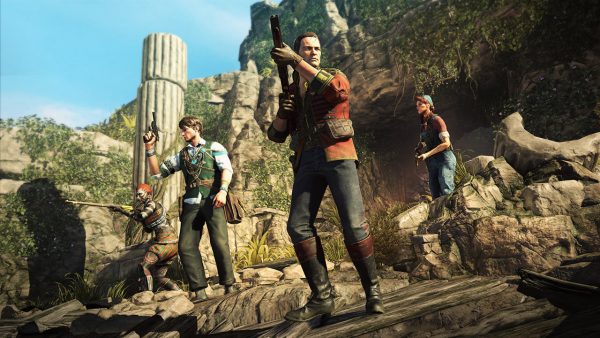 Strange Brigade is a third-person shooter with co-op of up to 4 players. It's full of over-exaggerated British voice-acting and humour through it's story and narration as you work together to slay enemies, solve puzzles and collect treasure. As with other co-op shooters like Left 4 Dead, Strange Brigade's cast are varied in their design and unique to their counterparts.
One thing to quickly mention is just how impressive the game looks, running at a solid framerate and running at 4K with HDR support. The game is vibrant and highly detailed, I was overly impressed with what I saw here. Rebellion have done a top job delivering the look and feel they have set out to do and it's high time we had more light-hearted shooters, so kudos to them.
A Season Pass will bring new characters and missions, but at current time of writing there's a good amount of content to get your teeth stuck into. The puzzles aren't the most imaginative though and you'll get through them fairly quickly, but on the flip-side at least it doesn't slow down the flow of gameplay that much. Levels are full traps that you can use to your advantage and the overall design of the levels are impressive.


You can deem to play the game solo if you wish, but it's not nearly as fun on your own. The same can be said for any other co-op shooter like this, so it's hardly surprising that to get the most out of it, you'll need to partner up. I didn't have any issues finding groups to play with and with the Season Pass content coming, hopefully there will usually be a good few people online.
The Verdict
Strange Brigade took me by surprise, I honestly didn't know what to expect…it delivers a humorous third-person shooter with superb visuals and great gameplay. Plus with more content on the way, Strange Brigade's is going to keep gamers busy for plenty of time to come.
Score: 8.5