Xbox One Review: Serious Sam Collection
Why so Serious, Sam?

Prepare to unleash your inner beast as you go after an army of wicked extraterrestrials. Follow the notorious hero, Sam 'Serious' Stone, in his quest to destroy the alien overlord, Mental, in The Serious Sam Collection – the most action-packed compendium of Serious Sam games. Featuring four of the best Serious Sam games ever made, The Serious Sam Collection has been updated with enhanced visuals, lush landscapes, improved textures and character models in HD. With an arsenal of chainsaws, flamethrowers, rocket launchers, sniper rifles and more, this is some serious first-person shooting action. Now four titles are available for the cost of a single game.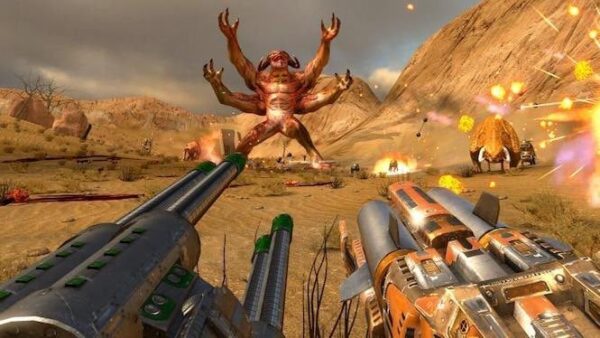 I've dabbled with the Serious Sam games in the past and found them to be good fun and downright bizarre at times. This latest collection is of 4 games in the series, but doesn't include Serious Sam 4 as it's not out on consoles yet, confused? Me too.
This collection has all the classic run-and-gun gameplay from the past games with the cheesy one-liners from Sam, but it also runs with a much-improved framerate mode and updated visuals. It still handles like the original game, but now looks and runs almost like a new game entirely. It still has that retro look and feel to it, so don't worry that they've gone and massacred your poor boy, this is the best version of the games to date.


With the likes of COD, Battlefield, Titanfall and PUBG, it's good to have a retro shooter back on consoles. Though I'm surprised they haven't tried to cram in a Battle Royale mode in this just to be part of the crowd and while I'm not a big fan of BR, I could actually see it working well with a crazy retro shooter like Serious Sam.
The bundle of these 4 games is only £25 so it's a steal considering the amount of content you get here, plus the improved visuals and performance just adds to one Serious deal (see what I did there?) Ok, I'll get my coat…
The Verdict
The Serious Sam Collection improves the games in every way without losing the arcade feel of the series. It's cheesy and retro and just brilliant. Give it a try, I'm Serious!
Score: 8.5