Xbox One Review: Scott Pilgrim vs. the World: The Game – Complete Edition
Streets of Ramona?

Play as Scott Pilgrim, Ramona Flowers, Stephen Stills, Knives Chau, and more. Level up your characters and unique abilities as you fight your way through waves tough enemies. Team up with 3 of your friends locally or online, combine your skills in battle or compete with them in awesome mini-games to see who ends up on top! Can you defeat Ramona's League of Evil Exes as you try to win her heart? Epic battles with Lucas Lee, Gideon Graves, and more await Scott Pilgrim and his friends. Zombie hordes? Dodgeball? Battle Royale? Just a few of the things you'll find playing through this Complete Edition. Compete in sub-space mini-games, experience a killer soundtrack, and much more as you re-live the beloved story of Scott Pilgrim vs. the World.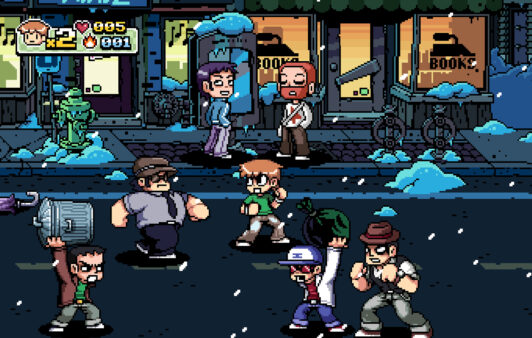 Its rare to see a movie tie-in game that tries to be different, but the videogame based on the film Scott Pilgrim vs. the World mixed it up and was a cult hit with gamers until it vanished off digital stores several years ago, but with the 10th anniversary looming it seemed like a good time as any to relaunch the game with DLC and even an online mode that didn't exist previously.
The game has a retro look to it and handles like a side-scrolling beat-em-up game like Streets of Rage and it works really well. The game is no cake walk either, I played it via local co-op with my partner and we died a lot. I am aware that you can enter cheat codes to make things a bit easier and all that, but I wanted to experience it without that and while I may end up resorting to that to mop up some of the tougher achievements, I was pleased to get through the story without doing that.


The main difference between SPVTW and Streets of Rage is that you can spend money you find to heal yourself or give yourself bonuses, plus you can also level up through combat, unlocking new combos. It's not the longest game in the world, but the early difficulty will definitely make it feel longer overall.
The visuals are simple but charming and not what you would expect from a movie tie-in. The soundtrack is superb and the game runs smoothly without any hiccups overall. Online play is a bit mixed but I'm sure it'll get better via patches.
The Verdict
Scott Pilgrim vs. the World – Complete Edition fills the void left when it vanished off digital stores some years ago. It's a superb homage to older games like Streets of Rage and Final Fight while cutting out it's own identity. Definitely don't let this fly under your radar a second time.
Score: 8.5