Xbox One Review: Pro Evolution Soccer 2017
PES lays down the gauntlet, but is it strong enough to withstand the competition?

How time flies, it's already been a year since PES 2016 which I found to be the best PES in years, closing in on FIFA's crown. Could this be the year that Konami's football series finally accomplishes that?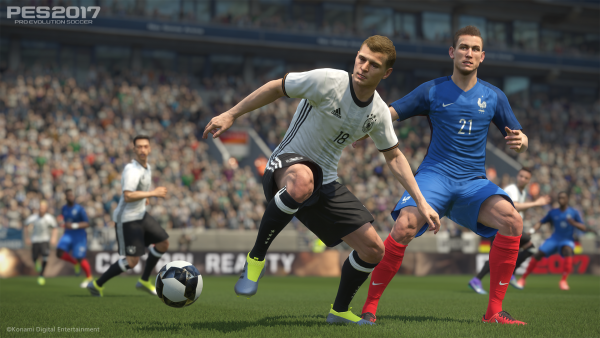 Well, it's too early to tell since FIFA 17 isn't out for a few weeks yet…but the signs are all good. PES 2017 improves upon it's predecessor with tighter controls, smarter AI and an overall more enjoyable experience. Sure, it still suffers from the lack of licensing…so Man Utd and Man City are Man Red and Man Blue, while my team Newcastle United (Which has seen better days, but we are recovering with the help of the legend that is Rafa Benitez) is called Tyneside, while our rivals Sunderland (Who are doing even worse than expected already this season, yay) are called Wearside.
I'd also recommend doing an immediate Live Update when you play as I discovered to my surprise that Newcastle (or Tyneside in the game) still had Sissoko, Townsend, Wijnaldum and Janmaat…players who have all left now. On the plus side, those players did fetch the club a nice profit for Sports Directs' Sith Lord Mike Ashley. Ok, back to the game…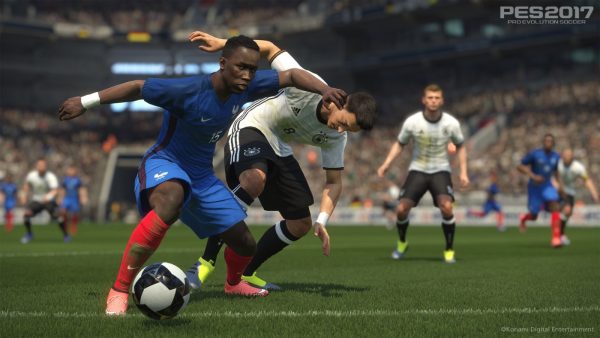 PES 2017 looks like it has had a bit of a visual upgrade from last year, no doubt due to the ever-evolving nature of the FOX Engine. Despite the criticism towards Konami after the past 12 months, there's no denying that they have put the engine to good use here. The player models and animations are look smoother, while the commentary is also decent. I was surprised to see the tracklist for songs in the game menu, which includes the likes of James Bay's "Holding Back The River", it's good to see they've made an effort to find decent songs.
Gameplay feels like a good combination between realism and arcade, while AI behaviour still needs to improve slightly…it's the best I've come across in the series and definitely gives FIFA a run for it's money. Sure, all eyes are on FIFA's career mode for 2017…but Konami is definitely not relenting on pursuing the crown and I think they've definitely given FIFA a big problem to deal with here.
The Verdict
PES 2017 is the best game in the series, without a doubt. It improves upon it's predecessors and gives it's competition a real problem to contend with. FIFA 17 is going to have to bring out the big guns if it hopes to overcome what PES 2017 has laid before it. Will they be able to do so? I honestly don't know at this point, but I wouldn't miss the battle between these two sporting giants for anything.
Score: 9.2