Xbox One Review: Oh My Godheads
December 20, 2017 by Admin
Godheads Gracious Me…

I'm all for couch gaming experiences like Smash Bros, Mario Kart or even quizzes, so I was intrigued to see what Oh My Godheads could deliver. What we get is a frenetic multiplayer fracas in which four players swing pointy swords, sling explosive pies, and celebrate victory with exuberant aplomb. So just what could go wrong?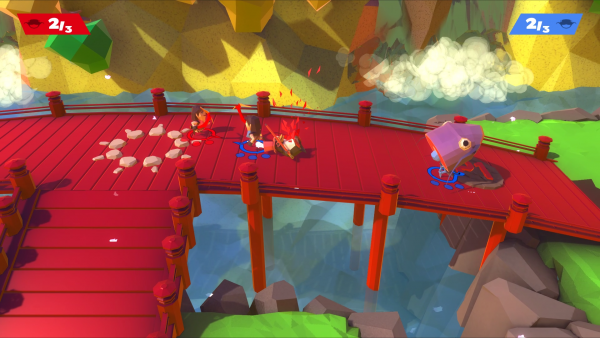 Well besides only offering a few modes, Oh My Godheads lacks any online multiplayer or any real single player experience other than beating certain events, which loses its appeal quickly. It can be fun to play against friends, although only in short bursts. If you don't have any friends round, you can always pit yourself against AI opponents but it's nowhere near as fun. It's much better with your friends round with a few drinks than on your own, which is the double-edged sword for the game as a whole.


The visual style is decent and the game runs at a steady framerate, I didn't notice any drops in performance in any case. The music is hit and miss, while there's no Xbox One X enhancements to speak of.
The Verdict
Oh My Godheads is a fun arena game to play with friends, not so fun on your own against AI. Still, the modes are good fun to play in short bursts, but this could have benefitted from more modes and online play.
Score: 6.5