Xbox One Review: Monster Hunter: World
A brand, new world for the series?

In Monster Hunter: World you assume the role of a hunter venturing to a new continent where you track down and slay ferocious beasts in heart-pounding battles. This new land and its diverse inhabitants play a critical role in each quest as you strategically use the surrounding environment including terrain, vegetation and wildlife to your advantage in battle or become hindered by the hazards they present. As a hunter, you must use your cunning and expertise to track and manoeuvre your targets throughout the intense, evolving battles.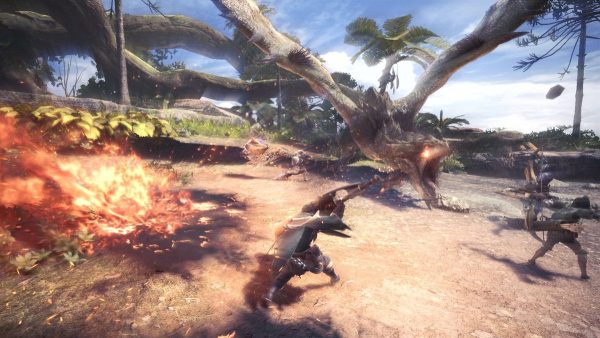 It's been a while since I've played a Monster Hunter game, but this one seems to be a drastic change forward, making it much more accessible to the Western audience with its vast open-world. But is it enough to entice them and keep traditional fans happy?
There's a good balance here between new and old ideas that seem to keep both newcomers and veterans pleased, it's quite remarkable actually. There isn't many franchises that could mix things up like this and still keep both sets of players happy, so credit where credit is due. Monster Hunter: World is huge and could take thousands of hours to actually get every achievement, but the main bulk of the game should take around a cool 100+ hours. The reason why it may take 10 times longer, if not more is down to RNG drops for crowns, though this may change with specific events like in past MH games.
Quests are nice and varied while Monsters come in all sizes and either have to be killed or captured, while the Elder Dragons all need killing and come in various difficulties, as do all creatures great and small. As with past MH games, you can play quite a lot of quests online with friends and while I did initially have difficulties with connecting to players, it seems to have improved since launch and hopefully will continue to do so.


Playing this on the Xbox One X is something special. You get the option to choose between enhancements for graphics, resolution or performance, so it's really your preference…but in either case, the game looks stunning and the HDR is also an amazing addition. The world itself is breath-taking, the monsters are highly detailed and immense, while characters are also nicely animated. The soundtrack is also pretty intense and adds to the experience well.
The Verdict
Monster Hunter: World is a gigantic game that looks and plays amazingly. It finds an incredible balance between veterans and newcomers with it's refined, more accessible…yet familiar gameplay. With plenty of content and support still to come, this Monster Hunter's World will be busy for plenty of time yet.
Score: 9.0