Xbox One Review: Monster Energy Supercross – The Official Videogame
The best Supercross game so far?

Race with the official riders from 250SX and 450SX on the official tracks, Daytona included, to experience one of the most spectacular and entertaining racing competition ever! Customize your rider and bike as you like, with countless possibilities, with more than 80 official brands and 300 items available, and challenge yourself in conquering the top of the leaderboard. Race alone or against players from all over the world thought different offline and online game modes! Feel the rush of adrenaline, enter the arena and be the King of Supercross!


I must confess, I know very little when it comes to Supercross so wasn't entirely sure what to expect with this game that has the Monster Energy Drink logo splattered all over it. I certainly wasn't expecting it to have Xbox One X enhancements and it's a great looking game, but how does it fare on the track itself?
In terms of controls, the game will take some getting used to and may frustrate some gamers beyond sticking with it, but for those who can there's quite an in-depth racer to be found here with vast levels of customisation and even a track editor. The career mode itself is a bit lacklustre and the game has a few bugs that need ironed out, but none of them are game-breaking. Overall, the attention to the licenses and sport itself is impressive and even though I have played very few games like it, I can say it's the best I have come across.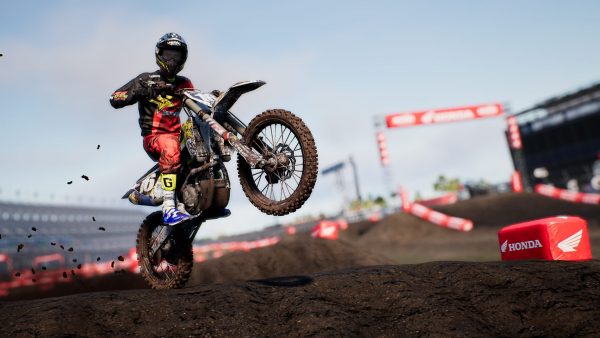 Despite the Xbox One X enhancements to the game, I did notice a few framerate hiccups from time to time and like I said, I came across a few buggy moments that although didn't break the game, did hinder me in a few races. Having said that, I have come across worse bugs and I was honestly expecting to see some of them at first but was pleasantly surprised overall.
The Verdict
Monster Energy Supercross is a great looking game that handles well but will take some mastering. It's a bit rough around the edges with the framerate, buggy moments and its career mode, but overall, it's a decent racer that actually delivers a true Supercross experience and most importantly, the best so far.
Score: 8.0