Xbox 360/PS3 Review – The Beatles: Rock Band
Can The Beatles still make you twist and shout?

The Beatles. Perhaps known as one of the best bands of all time and still celebrated to this day. I may have not been around at the time of them performing, but I grew up listening to their music and even performed one of their songs at school while doing a play on all things 60's. So, they have had some impact on my life and I only hope that Rock Band can match the same level of quality as the group itself.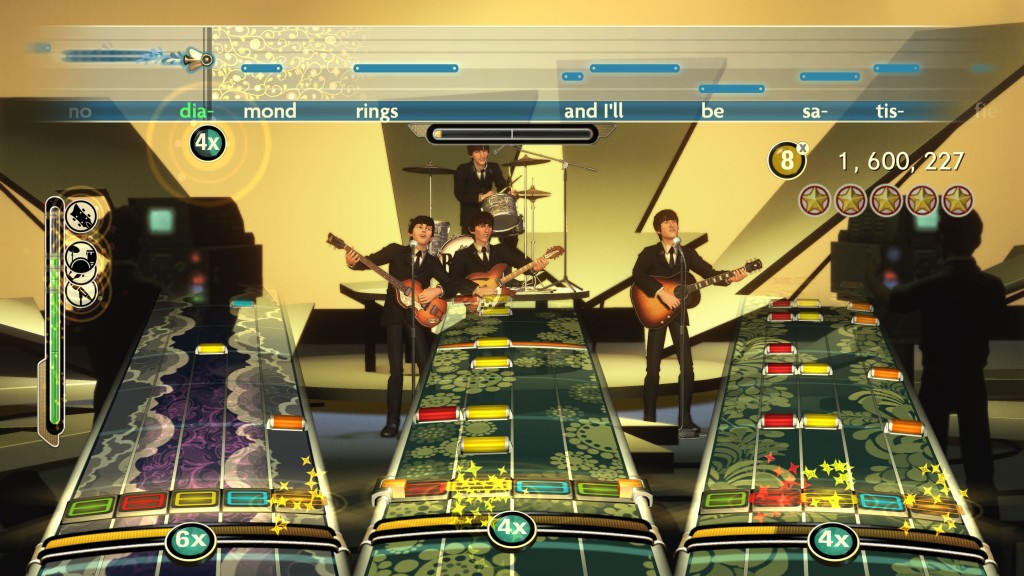 I can say without any fear of contradiction that The Beatles: Rock Band is the greatest music game of all time. Guitar Hero has tried to dedicate a game to a band before with Aerosmith and Metallica, but those are really for those who enjoy that type of music. The Beatles has a larger fan base than those two combined and as a result, is a much better game. It has an incredible line-up of Beatles classics to play through your guitars, drums and microphones.
If you want to know exactly what songs you are getting with the game, here's the tracklist:
Singles
• I Want To Hold Your Hand
• I Feel Fine
• Day Tripper
• Paperback Writer
• Revolution
• Don't Let Me Down
Please Please Me (1963)
• I Saw Her Standing There
• Boys
• Do You Want To Know A Secret
• Twist and Shout
With the Beatles (1963)
• I Wanna Be Your Man
A Hard Day's Night (1964)
• A Hard Day's Night
• Can't Buy Me Love
Beatles For Sale (1964)
• Eight Days a Week
Help! (1965)
• Ticket To Ride
Rubber Soul (1965)
• Drive My Car
• I'm Looking Through You
• If I Needed Someone
Revolver (1966)
• Taxman
• Yellow Submarine
• And Your Bird Can Sing
Sgt. Pepper's Lonely Hearts Club Band (1967)
• Sgt. Pepper's Lonely Hearts Club Band/With a Little Help From My Friends
• Lucy In The Sky With Diamonds
• Getting Better
• Good Morning Good Morning

Magical Mystery Tour (1967)
• I Am The Walrus
• Hello Goodbye
The Beatles (White Album) (1968)
• Dear Prudence
• Back In the U.S.S.R.
• While My Guitar Gently Weeps
• Birthday
• Helter Skelter
Yellow Submarine (1969)
• Hey Bulldog
Abbey Road (1969)
• Come Together
• Something
• Octopus's Garden
• I Want You (She's So Heavy)
• Here Comes the Sun
Let It Be (1970)
• Dig a Pony
• I Me Mine
• I Got a Feeling
• Get Back
Love (2006)
• Within You Without You/ Tomorrow Never Knows
It's just a brilliant dedication to the band and in ways it finally shows me that Harmonix aren't content with producing the same old game every year. The game has great animated cutscenes telling the tale of the band as they go from venues around the world to perform, but because of the history it is full of nostalgia and good times. I may not have seen any of it at the time as I wasn't even alive, but for anyone who was…the game will take you down memory lane.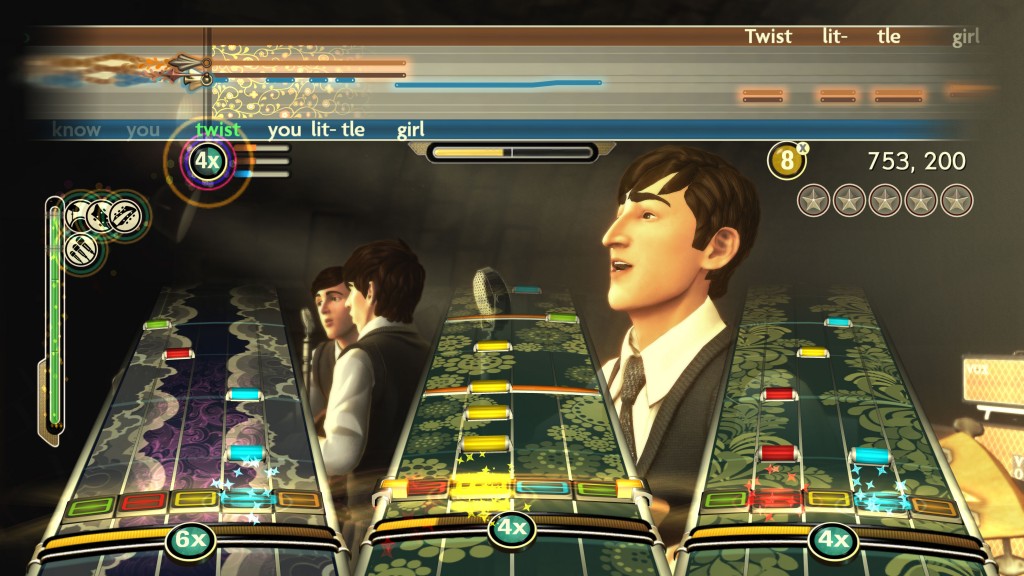 The game uses the same interface as in past Rock Band games and since it worked so well before, there wouldn't be much point in changing it. There is technically a change since Overdrive is now known as Beatlemania but other than that, it's business as usual. There isn't much of a difference between the Xbox 360 and PS3 versions and the achievement/trophy list is the same for both consoles. The good thing is that the game keeps track of your progress towards earning these accomplishments like L4D and The Orange Box has. Honestly, I think it's time that EVERY game had something like this.
Visually, The Beatles: Rock Band looks great. Character models are impressive and well animated while venues are nicely detailed. Of course, it's all in the music and the quality is superb. It's hard to say a bad thing about the game other than having to pay to download "All You Need Is Love". I did feel a bit angry at that since the game has just come out and they held this quality song back for DLC, but I guess there's a recession on and EA need the cash.
The Verdict
The Beatles: Rock Band has everything a fan needs. All the great songs that defined them are included; it tells the story of the group via great animated cutscenes between gigs, but most of all it takes you back to a time of better quality music, where it was all calmer and nicer on the ears. To me, it was a better era of music than today and I'm sure most Beatles fans will agree. All you need is…this game.