Xbox 360 Review: Lego Rock Band
Strange combination indeed…

When I heard that the next Lego game was going to be based off Rock Band, I was a bit puzzled. I couldn't really see what the purpose would be of combining these two very different licenses. Over the past few years, we've had a great mixture with Star Wars, Indy and Batman…but now Rock Band? I just couldn't see the connection.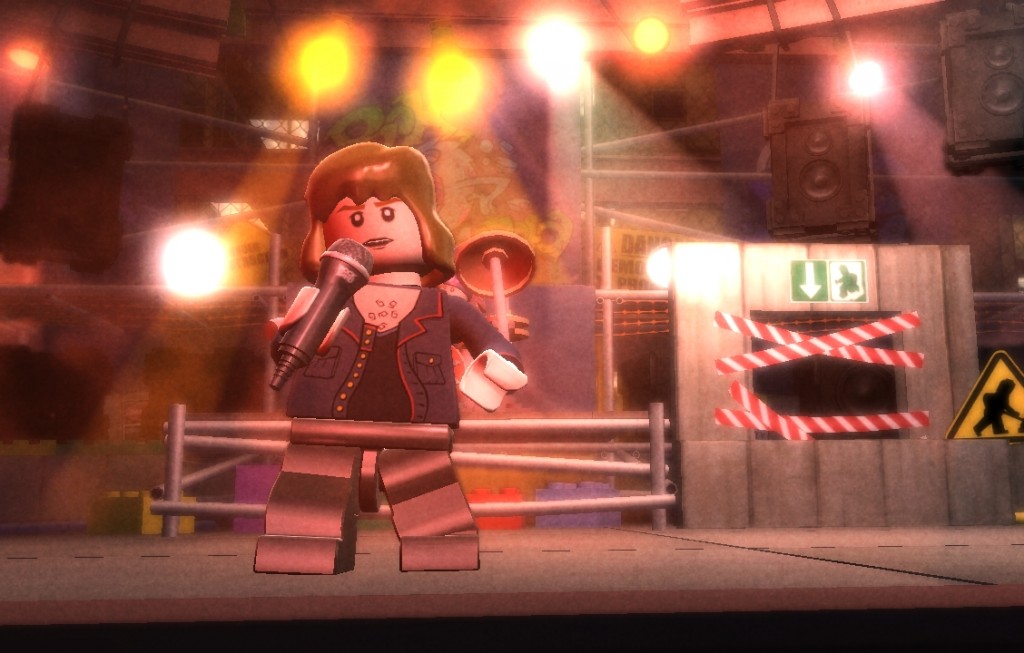 But upon playing the game, you won't really care. Essentially, Lego Rock Band is a version of the music game meant for the kids who might have been put off by the other games in the genre…having said that, things haven't changed that much. You still make a band, use the instruments to the same degree and instead of earning points to spend; you earn the infamous Lego studs.
Even the menu interface looks ripped straight from Rock Band. The track list is pretty good though…
• All American Rejects – "Swing, Swing"
• The Automatic – "Monster"
• Blink-182 – "Aliens Exist"
• Blur – "Song 2"
• Bon Jovi – "You Give Love a Bad Name"
• Boys like Girls – "Thunder"
• Bryan Adams – "Summer of 69"
• Carl Douglas – "Kung Fu Fighting"
• The Coral – "Dreaming of You"
• Counting Crows – "Accidentally in Love"
• David Bowie – "Let's Dance"
• Elton John – "Crocodile Rock"
• Europe – "The Final Countdown"
• Everlife – "Real Wild Child"
• Foo Fighters – "Breakout"
• Good Charlotte – "Girls & Boys"
• The Hives – "Tick Tick Boom!"
• Iggy Pop – "The Passenger"
• Incubus – "Dig"
• Jackson 5 – "I Want You Back"
• Jimi Hendrix – "Fire"
• Kaiser Chiefs – "Ruby"
• Katrina & The Waves – "Walking on Sunshine"
• The Kooks – "Naïve"
• KoRn – "Word Up!"
• KT Tunstall – "Suddenly I See"
• Lostprophets – "Rooftops"
• P!NK – "So What"
• The Police – "Every Little Thing She Does Is Magic"
• The Primitives – "Crash"
• Queen – "We Are The Champions"
• Queen – "We Will Rock You"
• Rascal Flatts – "Life is a Highway"
• Ray Parker Jr. – "Ghostbusters"
• Razorlight – "Stumble and Fall"
• Spin Doctors – "Two Princes"
• Spinal Tap – "Short & Sweet"
• Steve Harly – "Make Me Smile"
• Sum 41 – "In Too Deep"
• Supergrass – "Grace"
• Tom Petty – "Free Fallin"
• T-Rex – "Ride a White Swan"
• Vampire Weekend – "A-Punk"
• We the Kings – "Check Yes Juliet"
• The Zutons – "Valerie"
There might be a few bad tracks on there, but mostly enjoyable ones that both kids and older gamers should like. I bet you are wondering if Lego Rock Band is a watered down experience of the music series…well, I'd be lying if I said it was better than the other games…but it does feel a bit too familiar. I guess it's worth getting if you have been put off by music games in the past and want a nice introduction, but if you have played Rock Band 1&2 to death…then you'll find little else new here besides some new songs with a Lego twist, which ultimately ends up being completely cosmetic and has no impact on the gameplay whatsoever.


Not that it's a bad thing when the Rock Band formula works so well, but it would have been nice for them to mix things up. At the end of the day, it's a more family-orientated version with songs that they can all enjoy as they play during the holidays, but that's about it. On the plus side, you can customise your Lego characters well and buy quite a lot of items…which gives the game a nice lifespan, but will kids really care about all that? Despite the Lego addition being purely for visual enjoyment, the feel of the series is still intact…characters retain that classic look as do the stages and some other surprises along the way.
The Verdict
Lego Rock Band seemed like an odd mixture when I first heard it and it ended up being quite superficial. If you are a fan of both, you'll get a kick out of it. Even if you aren't a fan of Lego, you'll be surprised at just how good this version is…just don't go expecting any wild evolution of the series and you'll be enjoying it greatly.