Xbox 360 Review: F1 Race Stars
Does Mario Kart have a new contender?

Combining Formula 1 and kart racing is a curious idea and one that comes to life in Codemasters' F1 Race Stars, it has the typical arcade feel to it, plenty of weapons, courses and colourful caricatures of the F1 racers to compete against. But is it enough to make a certain Italian plumber worried?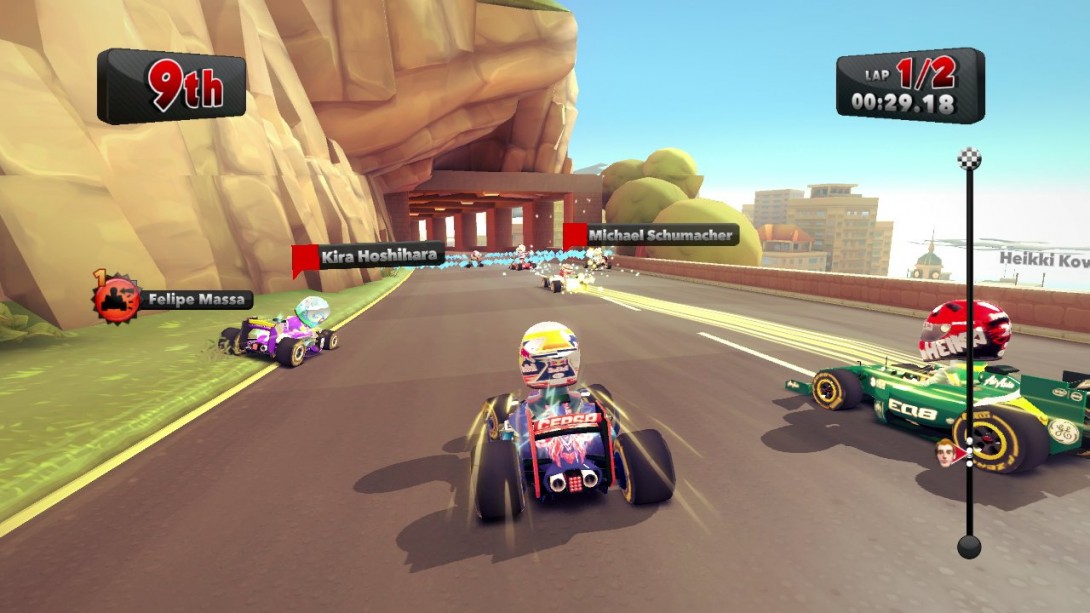 Alas the answer is no, but F1 Race Stars isn't a terrible game by any means. It just struggles in some areas, the powerups are all unbalanced and damage sustained to your kart will slow you down until you either get a healing powerup, go through a pitstop or a path that heals karts, as with most kart racers, winning can be won or lost right at the end thanks to powerups and boosts, but the tracks in the game are a little on the long side compared to most modern day karting games.
There are a lot of championships to conquer, but you can also play single races if you desire. You can play as any of the F1 crew like Lewis Hamiltion, Jensen Button, Fernando Alonso or the new Championship winner, Sebastian Vettel. You can also race as your Xbox Avatar to give the game a more personal feeling, though it's not the first racer to do so…it's still a nice option to have.
Besides the single races and championship modes, there is multiplayer with up to 12 players online and 4 via split screen, a rarity these days. It's always fun to play karting races online or with friends and F1 Race Stars is no exception, it's highly competitive and fun, but it's sadly been done much better by the competition like Mario Kart and Sonic All-Stars. Besides winning races online and offline, the amount of content is a little on the sparse side, which is a shame. Perhaps a track editor would have been a welcome addition?


Visually, F1 Race Stars is pleasing on the eye with its colourful, cartoonish look at the world of Formula 1. The courses are also nice to look at, but it does all look a little simplistic. Voices are minimal but awkward to listen to, while the soundtrack is a mixed bag.
The Verdict
F1 Race Stars is a decent enough racing game, it just fails in comparison to the competition with unbalanced powerups and it doesn't feel quite as smooth as you would expect it to. If you like F1 and karting, then this is a nice combo but I'd recommend downloading the demo first.