XBLA Review: OutRun Online Arcade
The classic driving game arrives on XBLA and damn it's still good

Experience the mayhem and action of OutRun Online Arcade as you test your time, speed, and handling ability, bringing your next-gen skills online with this coin-op classic. Feel the kick as you put your foot to the floor in one of 10 high-performance Ferraris racing your way across the U.S. with an open top and a girl by your side. Winding roads, beautiful beaches and big city lights – it's mile after mile of unrelenting acceleration through 15 action-packed courses, all visually enhanced in stunning high definition. Jump behind the wheel for the ultimate arcade racing experience and push yourself on the road as you race up to six others with online multiplayer. OutRun Online Arcade – it's a beautiful journey! Competition: OutRun delivers online multiplayer for up to six players for the first time on Xbox LIVE Arcade. Courses and cars: Race through 15 glorious courses in 10 licensed Ferrari cars for the ultimate OutRun ride. Arcade modes: The fast-paced arcade action thrills with heart attack and time attack modes. Classic tracks: Catch the cool sounds of OutRun as these smashing tracks feature alongside stunning new visuals.


Years ago, I remember playing OutRun in an actual arcade and had a blast with it. I've wondered why a game like this has taken so long to arrive as a downloadable game as it was so good back in the day. After playing a considerable amount of time with the new game, I'm still uncertain as to why it took so long…but it doesn't matter since it's highly addictive and the best driving game on XBLA.
OutRun takes you through 5 optional stages each time, you choose what path to take and some will take you to a harder area while others will take you to easier ones, of course just finishing all 5 courses is no small feat. I don't think I ever achieved it originally in the arcades, but the controls of this version are more precise and forgiving, so it's a bit easier overall.
Besides driving, there's a Heart Attack mode which sees your female passenger give you objectives to gain hearts. These objectives can be anything like passing a bunch of cars, drifting for a stretch of road, not crashing or even collecting coins. The better you do in each objective, the more hearts you get and the better rank you get. There's also standard time trial and ghost modes, it's nothing new but a nice touch nonetheless.
With a name like OutRun Online Arcade, it'd be pretty misleading if the game didn't offer online multiplayer, so it does…big surprise! Well, pardon my sarcasm…anyway, the online component is great and while it's not exactly innovative, it does the job it was designed for. At the end of the day, it's a classic game that has been revamped with online and better visuals, which makes it more than worthy of its price tag.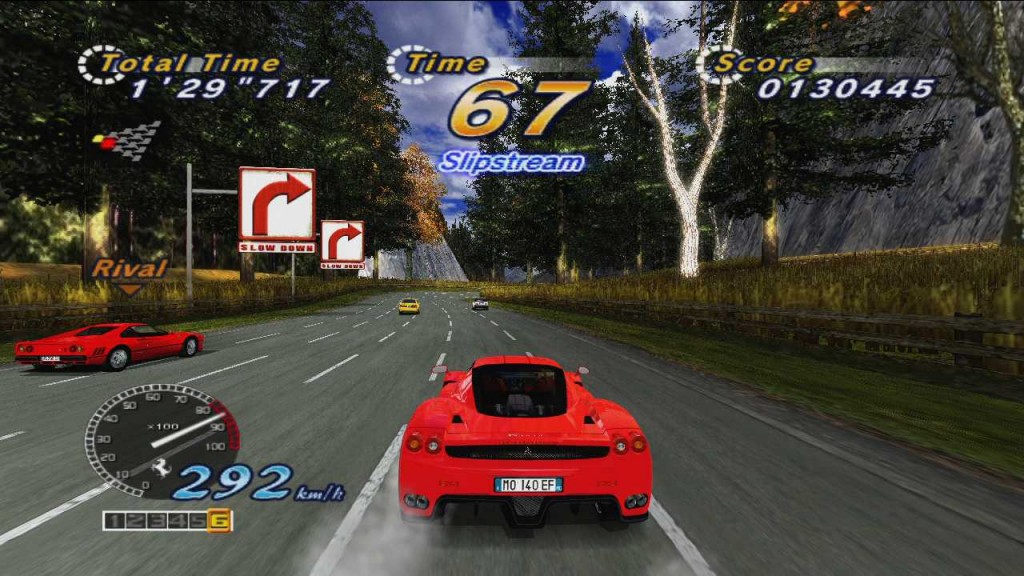 If there's one thing that is the slightest bit disappointing about the game, it's that it doesn't appear to have changed that much over the years; it's still more or less the exact same game. It's not a terrible thing, because I'm hooked to Heart Attack mode and racing friends online, I just figured that the series could do with a revival and this game could be the thing to start it. Well, at least it's given us a nice reminder of why it was fun in the first place.
Like I said, the graphics are much better. Sure it's not on par with anything like Burnout Paradise, but as a classic arcade game…the improvement is noticeable and looks great on my HDTV. Music is mixed, but overall good and fits the arcade feel well as does the female announcer.
The Verdict
OutRun Online Arcade is a classic game worthy of any gamers' cash. It may not have changed, but I guess if it works…why change it? Without a doubt, the best racer to hit any downloadable network so far.