Holy jumping weasel fritters on a hot cross bun! Sam and Max are back on PlayStation!
I reviewed these games for the Xbox One when they released last year, links below:
http://www.vg-reloaded.com/xbox-one-review-sam-and-max-save-the-world-remastered/
http://www.vg-reloaded.com/xbox-one-review-sam-and-max-beyond-time-and-space-remastered/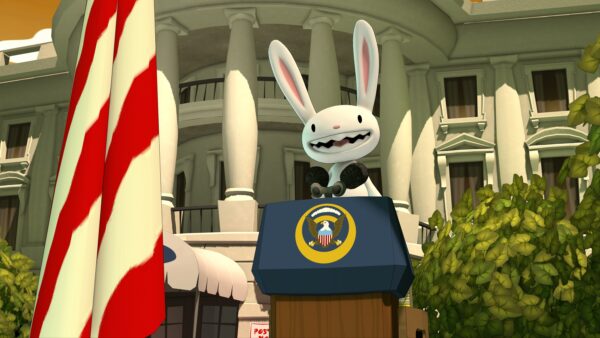 This is the first time that Season One/Save the World has hit PlayStation. The second season/Beyond Time and Space released as 5 individual games that weren't the greatest port, especially compared to the Xbox 360 version at the time. Still, PS3 won by nabbing The Devil's Playhouse which is considered by most to be the best of the bunch and hopefully we'll be getting that remastered next, pretty please Skunkape?
The PS4 versions of the games are identical to the Xbox One versions that came out last year, which is no bad thing. It made the controls more user-friendly, added quality of life improvements and most of all, had a fully functional framerate. This is a blessing when compared to what BTAS handled like on PS3…I should know, I managed to nab every trophy in them through gritted teeth recently and it wasn't pretty.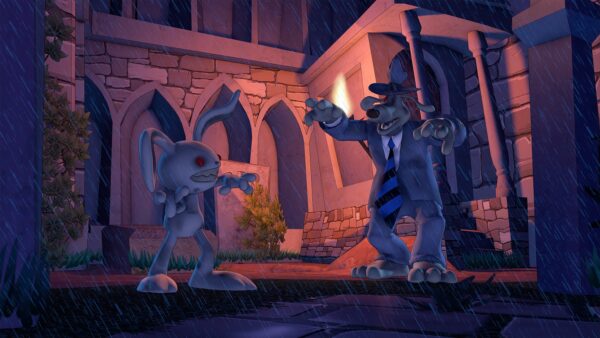 The PlayStation Store has the games sold individually for £15.99 or £24.99 as a bundle, the latter is naturally the best deal and I'd highly recommend it if you haven't picked up a version of the remasters yet, plus each game has a lovely shiny Platinum trophy for you. The games should take you a few hours each to get through and it still retains the classic point-and-click feel that the series originated from.
The Verdict
Sam and Max: Save the World Remastered/Sam and Max: Beyond Time and Space Remastered are both superb games that now can finally be played on PS4 or PS5 and at a very reasonable price to boot. Jumping elephant fleas, are you still here? Go out and buy them now!
Score: 9.0
Sam and Max are back in this remastered second season…
The dog and hyperkinetic-rabbity thing are back!
Read more
Will you see some serious s**t when the Wii hits 88mph?
Read more
Sam enters the huge body of his best friend, but can he save him?
Read more
What will the Freelance Police do against a clone of naked Sams?
Read more
Who dares steal the brain of Max? Time to find out!
Read more
Sam and Max head to the Penal Zone *tee-hee*
Read more
Coming to PC, Mac and PS3 in April!
Read more
Sam and Max make their second XBLA outing with even better results…
Read more
We have a code for the crime-fighting duo to give-away…
Read more
The XBLA version reminder that webcams taste like chicken and the first glimpses of my gametag characters
Read more
Acclaimed six-episode bundle includes high density graphic support, achievements, and foreign-language subtitles
SAN RAFAEL, CA, June 11, 2009 – Sweet swirling red rings of Saturn on a playdate with the junior varsity men's cheerleading squad, the Freelance Police are on Xbox 360®! Telltale Games is announcing that the dog and rabbity-thing crime-fighting team's episodic adventures will launch on Xbox LIVE® Arcade on June 17, 2009 with Sam & Max Save the World, a bundle of six award-winning comedy games.
Sam & Max Save the World, which was known as Sam & Max Season One for previous releases, has been enhanced for Xbox LIVE Arcade with achievements, widescreen and HD graphic support, and updates to the gameplay controls. The game is in English with subtitles in English, German, French, Italian, and Spanish. The Xbox LIVE Arcade download will sell for 1600 Microsoft points—less than 300 points per episode.
Sam & Max Save the World is a sitcom-style game with an overarching story that develops across its six episodes. The series kicks off close to home with a trio of former child stars who propagate self-help video tapes with hypnotic qualities throughout Sam and Max's neighborhood. Each subsequent episode takes the Freelance Police deeper into this mind control plot, from a casino run by unusually cuddly Mafioso to the White House and finally to a disturbingly blissful lunar retreat, where Sam and Max must face down the mastermind behind it all. The Save the World episodes have won a variety of awards, including a "Funniest Game" nod from GameSpot, plus "Editor's Choice" and "Adventure Game of the Year" accolades from publications including IGN, PC Gamer, and GameSpy.
The June 17 release comes less than a month after Telltale's Xbox LIVE Arcade debut with Fright of the Bumblebees, the first of four Wallace & Gromit episodes. The remaining Wallace & Gromit games and Sam & Max Beyond Time and Space, the second season of Freelance Police adventures, will be appearing on the channel in the coming months.
Sam and Max got their start in comics in 1987, courtesy of cartoonist Steve Purcell. They have appeared in several formats over the years, including a graphic adventure game, Sam & Max Hit the Road, in 1993; an award-winning animated series in 1998; and an online web comic in 2006, for which Purcell was awarded an Eisner Award for Best Digital Comic. The 20th Anniversary Edition of the Surfin' the Highway comic anthology has been nominated for a 2009 Eisner Award.
About Sam & Max
Sam is a six-foot dog in a baggy suit sporting a trombone-sized .44 hand-cannon. Max is a three foot "rabbity thing" with a saw blade grin and the impulsive nature of the average piranha. Together they patrol the sticky streets of a fantastical New York City, righting wrongs, pummeling perps, and ridding the urban landscape of the shifty legions of "self-propelled gutter trash" that litter their streets. Sam & Max have appeared in comics, video games, an animated TV series recently reissued on DVD, and an Eisner award-winning webcomic.
Telltale Continues Expansion to Xbox Live® Arcade with Acclaimed Sam & Max Game Series
Xbox LIVE® joins PC and Wii as new channel for "gaming's first sitcom"
SAN RAFAEL, CA, February 26, 2009 – The dog and rabbity-thing stars of Telltale's popular episodic games are one step closer to world domination today with the announcement that the first two "seasons" of Sam & Max will be appearing on Xbox LIVE Arcade. This is the award-winning comedy duo's first appearance on the Xbox 360, as well as on a connected console download service. Worldwide PC and Wii retail releases of the second season are also upcoming.
These approaching releases will sport catchy new monikers to more closely tie the season titles with their respective story arcs. Season One, which takes the Freelance Police from the New York City streets to Washington D.C. and all the way to the moon on the trail of a hypnotic nemesis, will be dubbed Sam & Max Save the World for all new releases moving forward. Season Two, which involves a baffling series of time paradoxes at the hands of unconventional aliens, has been renamed Sam & Max Beyond Time and Space. The Xbox LIVE Arcade releases will carry these new titles, as will Atari's 2009 retail versions of the second season.
"With Sam & Max coming to Xbox LIVE Arcade and the approaching retail launch, we're reaching a larger audience than we ever have before," says Telltale CEO Dan Connors. "These new releases give us an opportunity to better communicate the imaginative stories that make the Sam & Max games so special, and to strengthen the unique identity of each season."
Both Sam & Max seasons will be released on Xbox LIVE Arcade as full-season bundles, providing instant gratification to players who have been eagerly waiting for the Freelance Police to appear on Microsoft's console. The second Sam & Max season — which recently received Best Adventure Game accolades from IGN and PC Gamer and took home five Aggie Awards, including Best Comedy Writing, Best Gameplay, and Game of the Year from Adventure Gamers — is also scheduled to hit retail for PC and Wii in the coming months.
Today's news follows Telltale's recent announcement that the highly anticipated new series, Wallace & Gromit's Grand Adventures, is leading the company's expansion to Xbox LIVE Arcade. For more details about Sam & Max, Wallace & Gromit, and Telltale's other games, please visit http://www.telltalegames.com.
Sam and Max make a good conversion to the Wii
Read more