Does Episode 4 end the series with a bang or a whimper?
Read more
As the final episode draws near, Episode 3 delivers a chilling cliffhanger…
Spoiler Alert for those who haven't yet finished Episode 2.
Well, I personally didn't see THAT coming. Albert Wesker's sister, Alex revealed herself to be the Overseer behind the project on the isolated island and while the story of Claire and Moira continues with another twist to the Terra Save plot, its Barry and Natalia's episode that really delivers with some shock moments and one that I didn't see coming and leaves you wondering where the story can go from here. I guess I'll have to wait to finish the final episode to find out.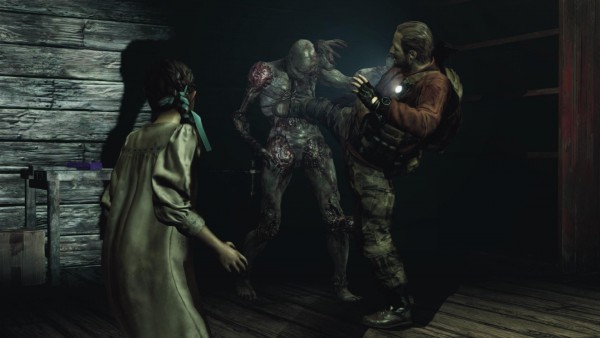 Overall, it's definitely the strongest episode so far. The quality has kept improving week after week and while each episode hasn't shaken up the formula too much, it's comfortable with keeping it familiar. My only problem with the third episode is the area in the abandoned quarry which sees Barry and Natalia move power supplies over conveyer belts; I found it frustrating to say the least. It's the only area in the entire game so far where I felt it was a chore to get through.
Enemy types are more or less the same, but they do throw a few new ones occasionally throughout the episodes, which throws a curveball at the player. Including the odd boss battle as in this one told through Claire's episode. It's a bit of a predictable fight, but an interesting one nonetheless.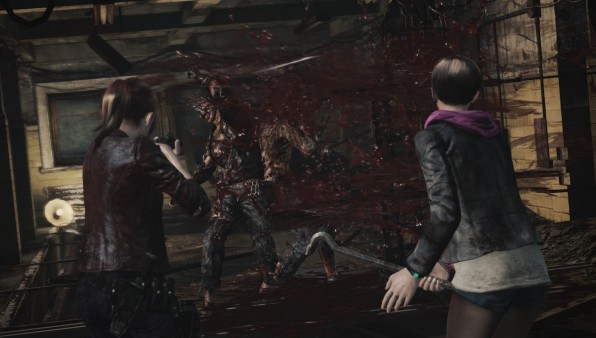 Visually, the areas are more varied in this episode and the framerate is just as steady as in past entries. Voice acting is as you would expect with the odd corny line thrown in, it wouldn't be Resident Evil without them after all.
The Verdict
On the whole, it's hard to judge this episode without seeing through the final entry to see if the past ones leading up to it were worth the wait, but overall it's an episode full of the game's namesake "Revelations" and one that will keep me playing till I finally finish the story.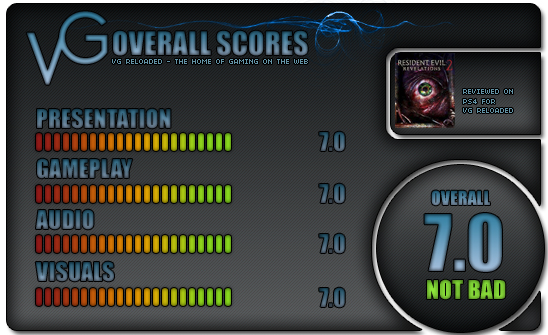 Can Barry save Moira?
Read more
Resident Evil turns episodic…
Read more
Gaming's most famous mansion hits the PS4…
Read more
Is it time for another Jill Sandwich already?
Read more
What horrors await Chris, Leon, Jake and Ada in this trailer…
Read more
The next instalment of the survival horror series arrives later this year…
SAN MATEO, Calif. — Jan. 19, 2012 — Capcom®, a leading worldwide developer and publisher of video games, is very proud to announce that Resident Evil® 6 is in full development and scheduled for release on the Xbox 360 ® video game and entertainment system from Microsoft and PlayStation®3 computer entertainment system on November 20, 2012 with a Windows PC version to follow. Blending action and survival horror, this latest instalment in the multi-million selling franchise is the most ambitious, immersive and feature rich title of the series to date and promises to be the dramatic horror experience of the year.
It has been ten years since the Raccoon City incident and the President of the United States has decided to reveal the truth behind what took place in the belief that it will curb the current resurgence in bioterrorist activity. Due to be by the President's side is his personal friend and Raccoon City survivor, Leon S. Kennedy, but when the venue suffers a bioterrorist attack, Leon is forced to face a President transformed beyond recognition and make his hardest ever decision. At the same time, Bioterrorism Security Assessment Alliance member Chris Redfield arrives in China, itself under threat of a bioterrorist attack.  With no country safe from these attacks and the ensuing outbreaks, the entire world's population is united by a common fear that there is no hope left.
In a first for the franchise, Resident Evil 6 sees series favorites Leon and Chris come together to face this unprecedented threat. They will be joined by new characters, each with their own unique perspective and involvement, in this relentless dramatic horror experience enacted on a global scale.
"Resident Evil 6 represents a giant stride forward in the evolution of the series," commented Katsuhiko Ichii, Head of R&D and Global Marketing. "The development team, led by Hiroyuki Kobayashi, is working tirelessly to deliver the most impressive Resident Evil® title ever both in terms of scope and production values. We are all genuinely excited by the title and cannot wait to share it with the world."
Hiroyuki Kobayashi, Resident Evil 6 Executive Producer added: "From the outset the team's intention was to create an experience that delivers a gripping storyline, tense single-player and co-op action all set against a constant theme of horror. We are calling this fusion dramatic horror and are confident it will resonate with both existing fans of the series as well as newcomers."
Coming to XBLA/PSN this Autumn!
Read more
The survival horror returns…on the PC.
Read more