Will Capcom's latest be known as RE5 or RE4.5?
Read more
Capcom is pleased to confirm that Resident Evil 5 will feature Mercenaries Mode when it releases on Xbox 360 and PS3 next Friday, March 13. The return of this bonus mode that was such a hit with owners of Resident Evil 4 sees players compete against the clock as they try to defeat as many enemies as possible in a given time limit.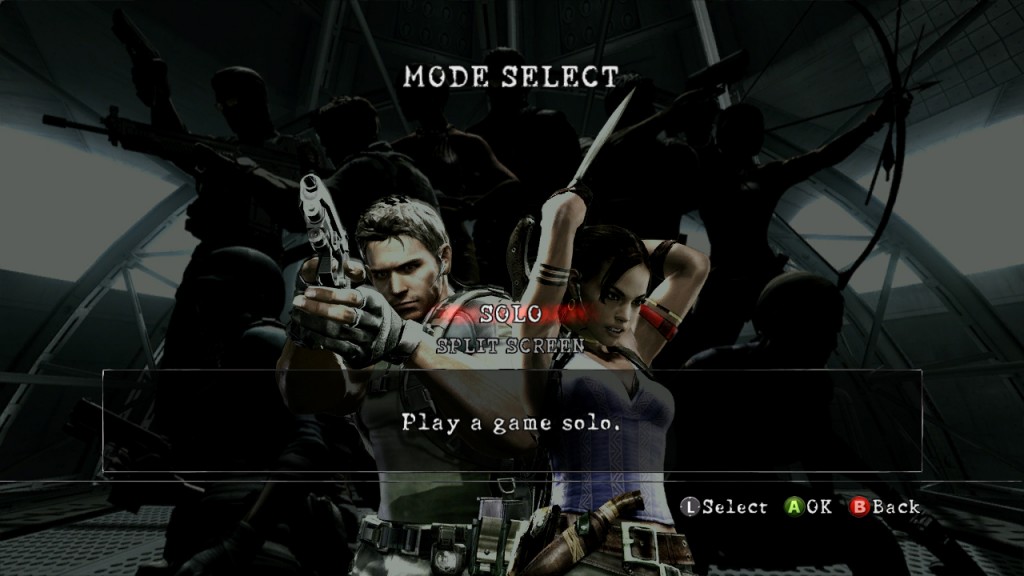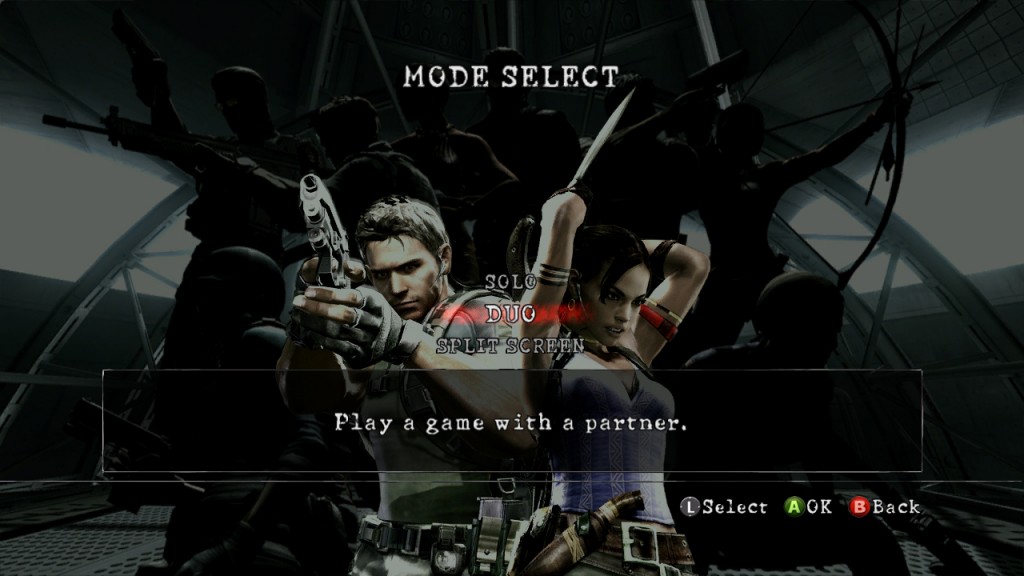 Over the weekend, download figures for the Resident Evil 5 Demo on Xbox LIVE surged past 1.8 Million, wrapping up the first week  on Xbox LIVE.
With the January 26th release, more than 1.3 million Xbox LIVE members around the world downloaded the demo of the hotly anticipated "Resident Evil 5" in just the first three days, placing it  among the top Demo  launches on the service. The Demo was first available exclusively to Xbox LIVE Gold members for the first three days and then for all Xbox LIVE members worldwide on January 29th.  The demo also reached new heights with its Japanese release in December under the "Biohazard 5" title, being downloaded by over 53% of Xbox LIVE Gold members in Japan.
The release allows fans to get their hands on new "Resident Evil 5" features including two new levels of single- and two player co-op play, characters, weapons and environments.  In this latest installment of the renowned survivor-horror franchise, returning "Resident Evil" hero Chris Redfield is joined by new partner Sheva Alomar to take on the frightening effects of the latest bioterrorist attack in the depths of Africa.
Xbox LIVE provides players with the ability to have their pick of who they want to experience the terror with. Whether it's a close friend or one of the more than 17 million members around the world, on Xbox LIVE it's easier to know when friends are online, playing "Resident Evil 5"and available to catch up over voice- or video-chat.
The demo's success, comes in the same week as "Resident Evil" fans were asked to help unlock the secrets of Kijuju first through Xbox-LIVE and Xbox.com. For the most up to date news on the title, fans have also been flocking to Xbox LIVE and Xbox.com to check out first looks at exclusive game trailers and videos.  On March 13th, Resident Evil 5 will move to its new home on Xbox 360.
Capcom is pleased to confirm that PlayStation 3 owners will be able to experience action from two levels of the highly anticipated Resident Evil 5 ahead of its March 13th release date.
The demo will be available for European registered PSN users to download free of charge from Monday 2nd February. As in the full game, the demo offers three levels of co-op play: single-player with AI support, two-player split-screen on a single PS3 and two-player across PSN.
As a reminder the demo will be available to download from Xbox Live from Monday 26 January.
Xbox 360 gamers worldwide won't have to wait until March 13, 2009 to get their hands on the highly-anticipated "Resident Evil 5." The next installment of the landmark survival horror franchise from Capcom will take action to a new level with a two-level, playable demo available exclusively on Xbox 360 for one week beginning Monday, January 26. In the demo, players will have a first glimpse of the fear they will never forget, as "Resident Evil 5" makes daylight just as terrifying as darkness. Additionally, a new exclusive high-definition trailer of the game, shown only at the past Tokyo Game Show in October of 2008, will be made available for download on the Xbox LIVE service on Friday, Jan. 26.
Fans will have the opportunity to experience "Resident Evil 5's" revolutionary new features early, including two-player co-op with voice chat along with new characters, weapons and environments. The demo is set within two stages from the beginning of the game – Assembly Place and Shanty Town — featuring plenty of co-operative action, shooting, hordes of bloodthirsty infected Majini enemies and a few puzzles to round out the action. The demo has three levels of co-op play: single-player with AI support, two-player split-screen on a single Xbox 360 and two-player across Xbox LIVE.
Xbox 360 gamers will also be first to take on the new enemies in battle, including an army of weapon-wielding infected Majini, the gigantic hooded Majini Executioner and even the dreaded Chainsaw Majini. Players can also choose between the classic "Resident Evil"-style controls or switch to the newer "Action" controls inspired by games like "Gears of War 2" and "Halo 3."
In this hotly anticipated new title coming on March 13, Chris Redfield returns as the "Resident Evil" hero and heads to Africa where the latest bioterrorism threat is literally transforming the people and animals of the city into mindless, maddened creatures. Joining forces with a new partner, Sheva Alomar, the two must work together to discover the truth behind this evil plot. Utilizing the new co-op mode, players will be able to assume control of either Chris or Sheva and experience "Resident Evil" in new ways.
5 new Resi 5 screenshots from CES:
Read more
First of all, Happy New Year to all of you! Our first news story of 2009 is Capcom's stellar line-up for the year, enjoy!
—————
Resident Evil 5, Street Fighter IV, Dead Rising Chop Till You Drop, Neopets® Puzzle Adventure, Flock!, MotoGP for Nintendo Wii
London – January 5, 2009 – Capcom®, a leading worldwide developer and publisher of videogames, has today confirmed that seven of its upcoming titles will be released within the first half of 2009. The line up demonstrates Capcom's commitment to pursuing a multiformat strategy and growing its portfolio of titles and includes the latest instalment of some of the industry's most cherished franchises.
Throughout 2008, Capcom was at the forefront of digital download titles and this is set to continue into 2009 and beyond. Its first downloadable game of the year Flock! is scheduled for release this February and will be available for the Xbox LIVE® Arcade, PlayStation®Network and PC platforms. Flock! sees players take control of a UFO that is tasked with herding animals to its mothership through a variety of interactive levels. With over 50 levels in single player and online co-op mode and a simple yet powerful level editor to extend the experience, Flock!'s unique theme, clever humour and easy pick up and play controls will ensure a new twist on the puzzle genre.
On February 20th the revolutionary Street Fighter series makes a very welcome return with Street Fighter IV releases on the Xbox 360™ and PlayStation®3 systems. The release date of the PC version will be confirmed shortly. The series which has amassed combined global sales of over 25 million units aims to put the fun back into the fighting genre and reignite the passion of the Street Fighter II era. Everything that made the legendary Street Fighter II a global hit is back in Street Fighter IV with the addition of new characters, including fighters added just for the console version of the game, special moves, locations and gameplay elements, providing challenges for even the most seasoned Street Fighter pro.
Infecting gamers and completing Capcom's list of releases for February is Dead Rising Chop Till You Drop, scheduled for release for the Nintendo Wii™ on the 27th of the month. Based on the Xbox 360™ title, which to date has sold over one million copies, the humour and challenge that made the original such a hit with gamers still remain, while many core elements have been totally redesigned for the Wii platform and audience, taking zombie bashing to a whole new level. With the added functionality of the Wii remote, players will be able to shake off zombie attacks and swing and throw dozens of makeshift weapons, from chainsaws to baseball bats in order to survive.
Based on the Nickelodeon property Neopets and also scheduled for release on February 27th Neopets Puzzle Adventure will extend Neopets' virtual experience for fans when it is released for the Nintendo Wii, Nintendo DS and PC. Neopets is consistently ranked as one of the top 10 stickiest sites and is currently the largest and fastest growing online youth community. With an exciting storyline featuring over 150 quests and three mythical lands to explore, Neopets Puzzle Adventure is the ultimate virtual-pet puzzle adventure game appealing to puzzle enthusiasts, casual gamers and fans of the Nickelodeon property.
Gamers around the globe have already written Friday 13th March 2009 on their calendars in blood red ink in order to mark the release of Resident Evil 5. This new title sees one of the industry's most successful franchises brings the next generation of fear to the Xbox 360™ and PlayStation®3 systems. With the debut of co-op play and the introduction of other innovations to the series, Resident Evil 5 promises to set a new standard in action gaming.
Also scheduled for release in March is MotoGP for the Nintendo Wii. Due to hit retail to coincide with the pre-season activity for the 2009 MotoGP season, the title turns the Wii remote into a set of virtual handlebars as players compete across the three race classes in single races, a full championship or a series of challenge stages. Different handling models and AI rider characteristics allow ease of entry for riders of all skills whether a seasoned bike racing fan or new to the genre.
Completing this impressive line up is Bionic Commando, the first true sequel to the retro classic with an injection of next gen power. The title will be initially available for gamers on Xbox 360™ video game and entertainment system from Microsoft and Sony Computer Entertainment's PLAYSTATION®3 (PS3™) with the PC version following shortly afterwards. Bionic Commando harnesses the power of the latest generation of hardware to fully exploit the swing mechanic that made the original title so unique. Using the powers of the Bionic Arm to swing between towering skyscrapers, punch cars, pummel opponents and grab distant enemies, players can gain a tactical advantage to progress through the compelling single player campaign and take on all comers in its multiplayer modes.
You should already have March 13th 2009 firmly marked on your calendar as the release date for Resident Evil 5, but now you have another date to add as Capcom is pleased to confirm the European release date for the PS3 & 360 versions of Street Fighter IV will be February 20th 2009.
Let the countdown commence