Review: Game and Watch: The Legend of Zelda
Is there any better way to celebrate 35 years of Zelda than this?
This new retro-inspired Game & Watch system includes three classic games in the Legend of Zelda series – The Legend of Zelda, Zelda II: The Adventure of Link and The Legend of Zelda: Link's Awakening – as well as a special version of Game & Watch classic Vermin starring Link as a playable character. A playable digital clock based on The Legend of Zelda and a playable timer themed after Zelda II: The Adventure of Link are also included.
The 35th anniversary of The Legend of Zelda has given us some decent things like the HD remake of Skyward Sword and Ocarina of Time finally came to Switch via N64 Online, but Nintendo have decided to end the celebrations with the release of the latest Game and Watch which includes the original game, Zelda II, Link's Awakening and a version of Vermin with Link…
The quality of the Game and Watch itself is superb, much like the Mario one we got last year. This also comes with a cardboard cutout for you to display and looks great overall. Switching between each game is simple enough and each runs perfectly, now some may argue that they could have easily put the DX version of Link's Awakening on since it can definitely handle colour and I agree, but it's only a small complaint…and honestly if you want the definitive version then you should really get the Switch remake which knocks it out of the park.
The original Zelda was always a tough cookie and it still is, even with all the guides and tips you'll definitely have a tough time, but it's still a gem and the series wouldn't exist without it. Zelda II: The Adventure of Link was my very first Zelda game I played as a kid and I never got that far in it because it was and still is tough as nails, it makes the original Zelda look like the easiest game compared. I was able to beat it years later on the Wii U but I have to admit that I had to abuse the save system to overcome it and even then it wasn't a breeze…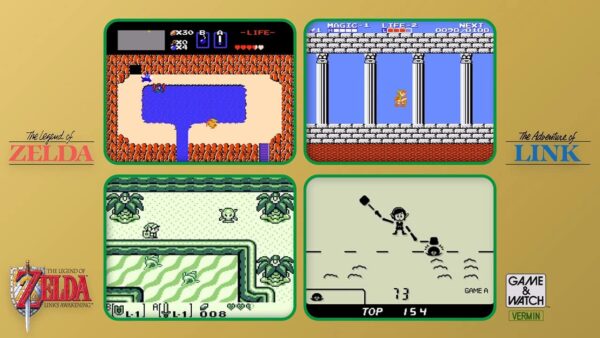 Link's Awakening was the first handheld Zelda title and it still holds up amazingly, I can see why Nintendo decided to give it some much needed love with the Switch remake. The Vermin game is fairly simple, but the nice addition has to be the playable timer which is themed around Zelda II. There's so much more on offer with this Game and Watch than last year's Mario G&W, which only included the original and The Lost Levels.
The Verdict
Game and Watch: The Legend of Zelda is a superb stocking filler for any Zelda fan this holiday season. It has 3 outstanding titles and while Zelda II will always be considered the black sheep of the series, just remember that it's not Wand of Gamelon…
Score: 8.5