PSVR Review: L.A. Noire: The VR Case Files
Can PSVR give a new perspective to 40's L.A.?

A dark and violent crime thriller set against the backdrop of 1940's Los Angeles, now in stunning virtual reality. L.A. Noire: The VR Case Files places you directly in the shoes of Detective Cole Phelps as you solve brutal crimes, plots and conspiracies inspired by real cases from 1947 Los Angeles, one of the most corrupt and violent times in L.A. history. Featuring seven cases rebuilt specifically for virtual reality, L.A. Noire: The VR Case Files adds new layers of immersion and realism to Rockstar Games' atmospheric crime thriller as you solve select cases from the blockbuster original game, spanning mysteries from the Detective desks of Traffic, Arson, Homicide, and more.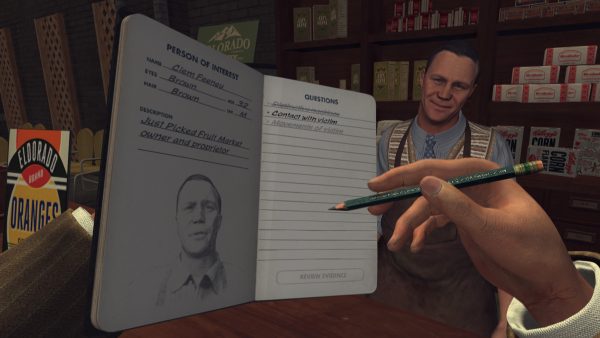 I loved the original L.A. Noire with its 40's vision of L.A. and its story, but I was surprised that a VR version of case files existed for every other VR device other than PSVR…until now. Literally out of nowhere, the PSVR version drops for owners and I finally get to see if The VR Case Files can give a new take on a classic Rockstar game.
The first-person perspective takes a while to get used to, as does the 3 different ways of actually controlling Phelps' view and movement. These can vary from simple button presses to adjust your camera angle to actually using your head to move the camera, as well as one movement that lets you push forward by holding down a button while using the head tracking to face which way you are moving. It takes some getting used to and may disorientate you, but luckily, it's down to personal preference.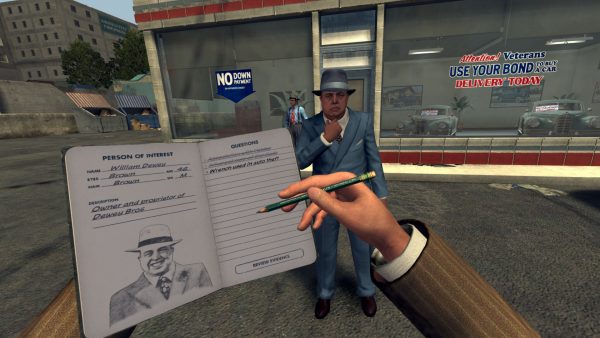 Besides hunting for clues, you'll also take place in fist fights and shootouts which are both seriously satisfying in VR. Punching or slapping some mobster has a nice feel to it and feels accurate overall, while shootouts are also well handled. There are also collectibles to find throughout the seven cases and a good number of trophies to keep you occupied.
Visually, this is definitely one of the stronger PSVR titles with heavily detailed character models and a smooth framerate throughout. The level of detail is definitely noticeable compared to other PSVR games, proving that the hardware is definitely more than capable than pulling it off, if done right. So, kudos Rockstar.
The Verdict
The VR Case Files is a showcase of what the PSVR is capable of and it shines brightly thanks to Rockstar. It also makes me crave a L.A. Noire sequel all the more, as unlikely as that is. It's nice to finally get to play the story from a different visual perspective and I'd love to see more games showing this level of detail.
Score: 8.5