PS5 Review: Uncharted: Legacy of Thieves Collection
Nathan Drake and Chloe Frazer hit the PS5…
Thanks to PlayStation for providing PS5 code for Uncharted: Legacy of Thieves Collection.
UNCHARTED: Legacy of Thieves Collection includes UNCHARTED 4: A Thief's End and UNCHARTED: The Lost Legacy remastered for PS5™. Play as Nathan Drake and Chloe Frazer in their own standalone adventures as they are forced to confront their pasts and forge their own legacies.
I have to begin by saying that I've played every Uncharted game with the exception of The Lost Legacy as I never got round to picking it up, so going through it was a brand-new experience.
Going back through Uncharted 4 on PS5 though was almost a similar experience, the sheer difference of playing the game with DualSense features, improved visuals, up to 120 FPS and faster loading times almost made it feel like a new game. The adaptive triggers and haptic feedback are integrated well in these remasters, making it much tougher now to revisit the older games without the DualSense support.
I'm glad to see that Naughty Dog have given these games the PS5 treatment, though personally I would have loved the entire saga given this treatment, perhaps updating The Nathan Drake Collection would have also been nice, but let's move on…
The classic mixture of combat, puzzles and exploration in both games are still as impressive, I reviewed Uncharted 4 back in 2016 and its still one amazing experience. The release of the Legacy of Thieves collection is also superb timing from Sony's point of view as the Uncharted film comes out next week, which I expect to do very well at the box office since everything that Tom Holland stars in is gold (so far at least).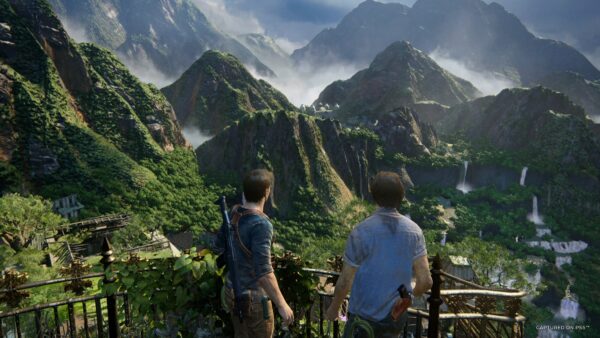 Simply put, the improvements over the original games give Uncharted 4 and The Lost Legacy a new lease of life, ultimately becoming their own Definitive Editions. Rumours are circling that Naughty Dog's other series "The Last of Us" is also getting the Remaster treatment, which would be amazing if they give it the same level of attention as these remasters. I also wonder if this is truly the "last" of the Uncharted franchise or if this is just to test the waters to see if there is still a market for the series, even if it doesn't feature Nathan Drake in the future.
If the series does continue, would Naughty Dog continue it, or would they pass the baton like they did with Crash Bandicoot? Anything at this point is pure speculation, but it does make you wonder where it would go from here if it did carry on. Would it be a full sequel or a reboot? Time will tell I suppose…
The Verdict
Uncharted: Legacy of Thieves Collection surpasses the original two games with superb improvements to visuals, framerate, loading times and the DualSense additions are also welcome. I really hope this isn't the last we've seen of this series though…
Score: 9.0