PS5 Review: Horizon: Forbidden West
Should you enter the Forbidden West?
Join Aloy as she braves the Forbidden West – a majestic but dangerous frontier that conceals mysterious new threats. Explore distant lands, fight bigger and more awe-inspiring machines, and encounter astonishing new tribes as you return to the far-future, post-apocalyptic world of Horizon. The land is dying. Vicious storms and an unstoppable blight ravage the scattered remnants of humanity, while fearsome new machines prowl their borders. Life on Earth is hurtling towards another extinction, and no one knows why. It's up to Aloy to uncover the secrets behind these threats and restore order and balance to the world. Along the way, she must reunite with old friends, forge alliances with warring new factions and unravel the legacy of the ancient past – all the while trying to stay one step ahead of a seemingly undefeatable new enemy.
Horizon: Zero Dawn launched at a weird time, almost alongside The Legend of Zelda: Breath of the Wild and while both games are very different to each other, it's easy to make comparisons like combat and exploration over an open world. Fast-forward to the sequel and a literally a week after its launch, Horizon: Forbidden West has competition in the form of Elden Ring. The good news is that these games can't be more different from each other, and they are aimed towards 2 very different type of player, so with that in mind, let's move on…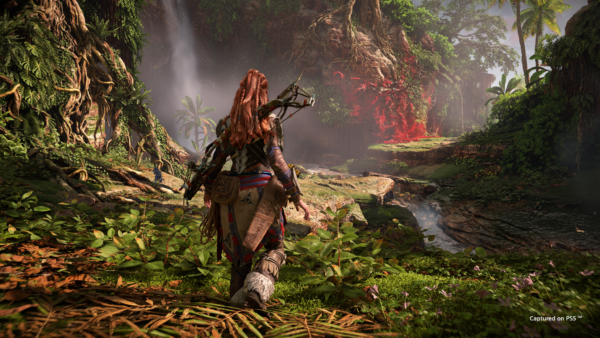 The original game looked incredible, but it also handled amazing with its combat and climbing mechanics. I'm not going to lie though, I wasn't a huge fan of Aloy as a protagonist and the story itself seemed to fall flat towards the end, at least for me. So, while I was looking forward to playing a sequel with improved visuals and gameplay elements, the story wasn't what I was anticipating…but I can admit when I was wrong as the plot in Forbidden West more than makes up for Zero Dawn's and Aloy finally began to grow on me, which I wasn't expecting.
If you played the first game, then you'll feel right at home here with the controls but the additions of the DualSense like haptic feedback, adaptive triggers and even adds gyro aiming as an optional extra adds such extra depth to the gameplay that it almost feels brand new. The team at Guerrilla have incorporated the DualSense into the game perfectly, adding to the immersion of the game superbly.
Aloy gets some new tools at her disposal that I wont spoil, but they are a nice addition overall. You'll fight new and old variants of machines, each of which are incredibly detailed and intimidating. Combat itself is the same as it was, whether you choose to be stealthy or go in all arrows blazing, but stealth is definitely your friend here against some of the more brutal enemies.
The open world is a decent size, and it will take you a considerable amount of time to see every nook and cranny, but there's more to do than simply explore and kill machines. There's plenty of side-quests to dive into and even a turn-based strategy game called Machine Strike which is quite addictive if you enjoy that genre.
Aloy also has a giant list of skill trees to upgrade, essentially making you decide what type of fighter she will become with the abilities and skills she earns this way. Luckily, getting Skill Points doesn't come just from levelling up, but also from completing quests and side-quests. There's a decent variety in the story and side quests, plus plenty of areas to explore and items to craft either at a blacksmith's forge or out in the open world itself.
In terms of visuals, Horizon: Forbidden West is the best looking PS5 game to date with heavily detailed characters, a breath-taking open world while maintaining a smooth framerate throughout. The voice-acting is superb and the soundtrack is epic from start to finish. I did encounter the odd bug like not being able to grab a crafting resource in certain areas, but I luckily didn't come across any of the others that I have heard about and with patches coming thick and fast, I can see that being a thing of the past for everyone soon.
The Verdict
If I have one complaint to deliver about Horizon: Forbidden West, its that it perhaps plays things a bit too safe and feels too familiar to the original. That's not exactly a dealbreaker since the original handled like a dream, so it's hard to dismiss because of this. What I will say is with that in mind, is that this is still a great sequel that pushes Aloy forward more as a likeable protagonist while maintaining the level of quality of the first game and pushing the impressive hardware of both the PS5 and the DualSense controller.
I can only imagine what future the series holds after this, but either way it'll be glorious and one hell of a wait…
Score: 9.0