PS5 Review: Evil Dead: The Game
Is this the ultimate Evil Dead game?
Step into the shoes of Ash Williams or his friends from the iconic Evil Dead franchise and work together in a game loaded with over-the-top co-op and PVP multiplayer action! Play as a team of four survivors, exploring, looting, crafting, managing your fear, and finding key items to seal the breach between worlds in a game inspired by all three original Evil Dead films as well as the Starz original Ash vs Evil Dead television series.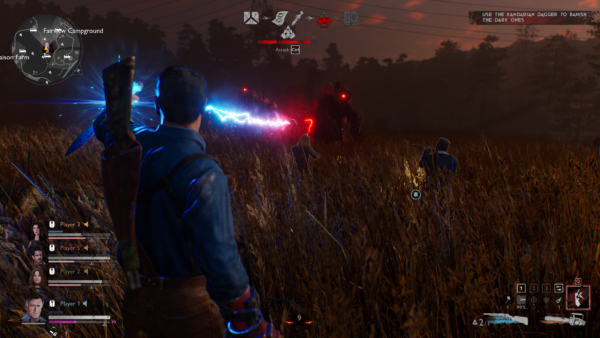 There have been games like Evil Dead: The Game in the past like the less unsuccessful Friday the 13th or the much more popular Dead by Daylight. The premise is simple, complete objectives while under attack from monsters/demons which are either controlled by AI or if playing online, a single opponent can summon them and possess them to attack your team, while also laying traps to hinder your progress.
I confess I don't actually know a lot about the Evil Dead franchise, but it does seem to have plenty of throwbacks to not only the Ash vs Evil Dead TV show, but also the original films which is impressive overall. The controls of the game are handled well and while the objectives are fairly simple, actually pulling them off with a team is anything but thanks to the overwhelming odds stacked against you.
Having said that, the game is actually very well balanced. While the Kandarian demon player can summon a lot to give everyone trouble, they are all quite weak with some exceptions and even then, they need to gather resources to summon anything in the first place, as well as manually upgrading their skills during the match.  Teammates can also upgrade skills and craft items to help them, though finding the right materials isn't always as simple as you would hope.
Besides PVP matches, there's also co-op/solo missions you can tackle which give you more story-based objectives based on what era of the franchise you are playing. These are also pretty impressive, while also offering a definite challenge too.
The visuals are impressive overall and there's plenty of gore to see, but the nods to the series itself are the real highlight and will no doubt impress long-time fans of the franchise. Voice-acting is impressive, with Bruce Campbell returning as Ash and a few others returning but not everyone. The soundtrack is also superb, adding to the creepy atmosphere.
The Verdict
You don't need to know much about the Evil Dead series going in to play this game, but it does have plenty of Easter Eggs for fans to keep them happy. The game itself is a great asymmetrical horror game that while a bit buggy here and there, is still highly impressive for a licensed game and after a few patches and additional content, it could easily be the sleeper hit of 2022.
Score: 8.5