PS4 Review: The Walking Dead – Season 1 & 2
Lee and Clem hit the PS4, but has anything changed?

Before I begin, here are links to the previous Walking Dead reviews:
Season 1: Episode 1: A New Day
Season 1: Episode 2: Starved For Help
Season 1: Episode 3: Long Road Ahead
Season 1: Episode 4: Around Every Corner
Season 1: Episode 5: No Time Left
Season 2: Episode 1: All That Remains
Season 2: Episode 2: A House Divided
Season 2: Episode 3: In Harm's Way
Season 2: Episode 4: Amid The Ruins
Season 2: Episode 5: No Going Back
I've played the PS3 versions of Season 1 and 2 extensively, multiple times and now I've endured it one more time for the PS4. There isn't really anything new to the package, it actually doesn't seem to have the small visual upgrade that The Wolf Among Us got and seems to be nothing more than an upscaled port, which is disappointing.
Load times after decision making slows down the pace of the story still and the framerate is erratic at times, especially during action sequences. For some reason, Season 2 still lacks a Platinum trophy even as a full retail version now. It would have been better if they released Season 1 and 2 on the same disk, instead of individually…but these issues aside, if you've not played the series or stopped playing halfway through, now's the time to give it a chance.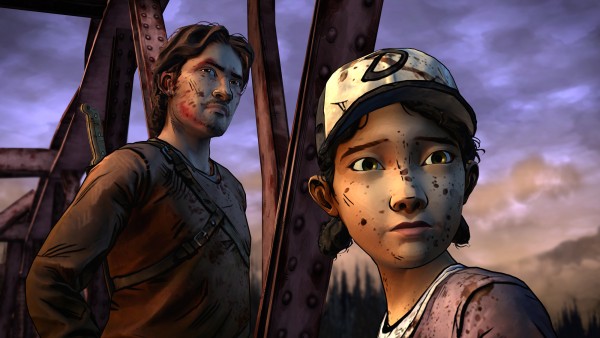 Season 1 was my personal game of the year for 2012 and that hasn't changed, even on my 6th or 7th playthrough. Season 2 had some pretty damn good moments, but it obviously can't compare with the impact that Season 1 made to gamers. Visually, Season 2 looks a little better than Season 1…but they both do suffer the odd tech hitch. Good news for PS4 owners is that the game is now patched to accept your S1 save for when you begin Season 2.
The Verdict
There's nothing particularly special about these great games on the PS4, they still have their issues in terms of performance…which I would have liked to see some improvement on. But there's still no denying how good these games are and that it doesn't seem to matter what system you play it on, just play it already.