PS4 Review: Minecraft Story Mode – Episode 1: The Order of the Stone
Can Telltale work their magic with Minecraft?

When you think of Telltale you think of The Walking Dead, Sam and Max, Back to the Future, Game of Thrones or Tales from the Borderlands. You wouldn't think they would tackle the world of Minecraft, but here we are with a 5-part series based on the very same franchise. Now, Minecraft itself doesn't have a story as such…as far as I know (Reviewer confession…I've never played Minecraft!) so I was curious to see how Telltale would turn their classic storytelling and humour to the world of Minecraft.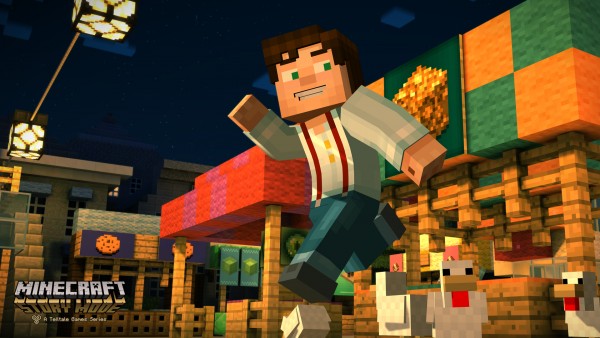 Episode 1: The Order of the Stone begins by explaining how a group of 4 heroes overcame a mighty dragon and then faded into the stories of legend. Fast-forward to now and your character Jesse (who can be customised with 6 different looks 3 male/3 female) is working with his friends to win a building contest to attend EnderCon and meet one of the legendary heroes at the convention. The heroes win with a little help, but Jesse ends up getting roped into a deal with scavenger Petra who is going to exchange a skull for a diamond at the convention. Nothing can go wrong with that, surely?
Of course it does. I won't spoil how or why but you will be tasked with finding the remaining members of the Order of the Stone and the episode finishes with you deciding to focus on what hero you will look for. I assume this will change the entire second episode depending on this choice, but we will have to wait and see on that. The game itself handles like The Walking Dead/GoT/TFTB with choice-based decisions and quick-time events. The QTEs mostly focus on rapidly building an object which is hilarious to watch, while some of the choices are pretty funny too.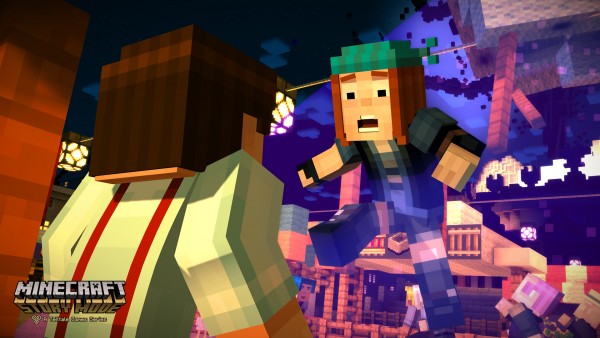 The visuals are taken directly from Minecraft, you will really feel like you are in that world while playing. But it does have Telltale's mark on it both visually and vocally, speaking of voice-acting…it's as brilliant as ever with a star-cast line up including Billy West (Fry from Futurama) as the Narrator and Pee-Wee Herman himself Paul Reubens as wizard Ivor. There are a whole other bunch of famous voices in there as well, which I'm sure you'll discover.
The Verdict

I was dubious when I first heard that Telltale's next series would be Minecraft, but I was wrong to do so. The humour is spot on and while the puzzles aren't challenging, it's nice to see a bit of combat thrown into the mix against creepers and the like. It's going to be interesting to see just how the story opens up and if the next episode can keep up with this fantastic debut.
Score: 9.0