PS4 Review: Middle-earth: Shadow of War
My precious?

Experience an epic open world brought to life by the Nemesis System. Forge a new Ring of Power, conquer Fortresses in massive battles and dominate Mordor with your personal orc army in Middle-earth: Shadow of War. Go behind enemy lines to forge your army, conquer Fortresses and dominate Mordor from within. Experience how the award-winning Nemesis System creates unique personal stories with every enemy and follower, and confront the full power of the Dark Lord Sauron and his Ringwraiths in this epic new story of Middle-earth. In Middle-earth: Shadow of War, nothing will be forgotten.


Middle-earth: Shadow of Mordor was a big surprise for me, after years of average LOTR games I never thought we'd get one that could be considered for Game of the Year. Sure, it borrowed heavily from Batman's Arkham series with its fighting style, while also taking props from Assassins Creed in the form of stealth and the towers you must climb. Shadow of War picks up after the events of the first game where a new Ring of Power is forged by Talion and Celebrimbor, but it's soon lost to Shelob, who appears as a femme fatale for some reason…
It's not long before Talion heads further into Mordor to take out more of Sauron's foes and save allies along the way. Many of the same gameplay elements from the original return such as the Nemesis system, which has been expanded for more depth. You can still hold enemy scouts hostage and get intel from them on their captains, while combat is as the same but more refined.
I've been playing both the PS4 and Xbox One versions, which look slightly different from each other to say the least. The PS4 Pro version looks stunning in 4K, but you have to download the 4K cinematics separately from the PS Store for a whopping download size. The game runs at a solid framerate but you can tell that the assets aren't in 4K, while the game has itself been upscaled to be nearly that. I hear things will play out differently for the Xbox One X version, but am unable to verify this until the console's release next month. The Xbox One standard version is slightly weaker in resolution to the standard 1080p, but it still looks incredible overall and the game looks and performs well on any system.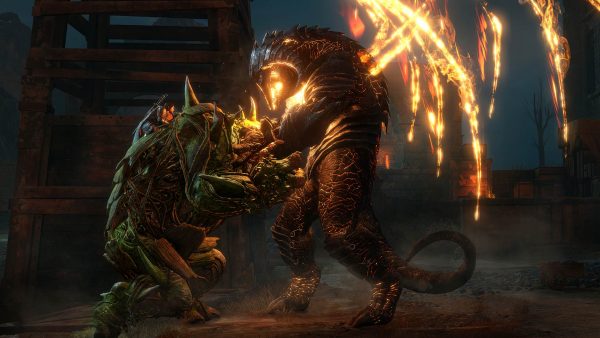 The scale of Shadow of War has increased from the original and will take a considerable amount of time to finish. There has been a lot of controversy over the game's loot boxes, but I can say that I haven't bought one and have been absolutely fine throughout. My only gripe with the game itself is that the story isn't quite as gripping as the original. Talion had a reason for vengeance that he accomplished in the first game, but his ambition isn't as believable and Shelob as a human is weird, even if it does make more sense as the game goes on. Voice-acting is still as impressive however, while the soundtrack is epic as you would expect.
The Verdict
Middle-earth: Shadow of War takes what worked in the original game and steps it up a few notches for one hell of an adventure. Its story may not be the best, but the gameplay has been refined to almost make me not care.
Score: 9.0