PS4 Review: Lego Dimensions Expansion Packs: The Goonies, Harry Potter and Lego City
Hey you guys!! It's the latest Lego Dimensions expansions…

Here we take a look at the recently released expansions for The Goonies Level Pack as well as Fun Packs for both Harry Potter and Lego City.
The Goonies Level Pack
Included in this is a Lego mini figure of Sloth, alongside dozens of Lego pieces to build a pirate ship which fires cannonballs and solves about 1 or 2 puzzles throughout the level and a Skeleton Organ that works like a vehicle and can shatter glass with it's high-pitch music, which also solves the same amount of puzzles.


The kits themselves do not come with any instructions apart from in-game and only when you reach the areas the ship and organ are needed. Now, let me tell you…the pirate ship took me a considerable amount of time and frustration to build, only for it to fall apart when I was so close so I eventually abandoned building it and made some evil hybrid of part boat-part cannon. The Skeleton Organ was a lot easier to build, but still fiddly to put together.
The level itself starts with a quick recap of The Goonies film up to the point where Chunk is locked in the room with Sloth, where you bond and quickly escape the room and essentially make it to the end of the film. It took me just over an hour to do the level, but I was trying to get as many studs as possible, so I could have done it a lot quicker if needed be.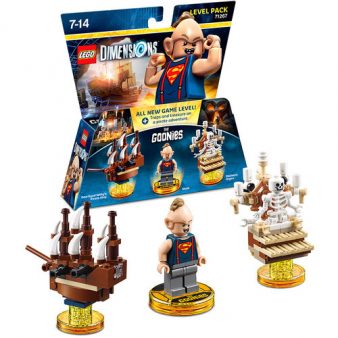 The puzzles are the classic form from Dimensions using the Portal Base to move Sloth and Chunk, as well as other Goonies through portals or making them be a certain colour and moving them to the specific section of the Portal Base to match the on-screen version. As with the original Dimensions levels and other expansions, there are mini-kits that can only be collected using certain Lego Dimensions figures…or you can Hire-a-Hero for a certain price and for a limited time. Of course, this is a much cheaper alternative if you don't have the type specific character at hand, but it is costly to your studs.
The Verdict
Overall, The Goonies Level Pack is a great parody of a classic film. Sloth fits well in the Lego universe in a way I didn't think could work. The Goonies Adventure World and Battle Arena are also great fun as well. Definitely one more for the avid collector.
Score: 8.5
Harry Potter Fun Pack
The latest Harry Potter Fun Pack contains Hermoine and Buckbeak. Hermoine can use Wingardium Leviosa to levitate objects and Lumos to light up dark places. While Buckbeak works as the typical vehicle character and can use Stomp Attack to smash silver Lego bricks, then rebuild him into the Giant Owl and the Fierce Falcon for additional in-game abilities.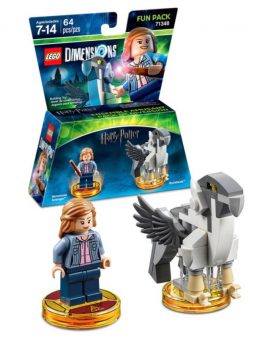 Both are fairly handy characters to have and assembling them is a piece of cake, even for a clumsy handed fool like myself. It also allows you access to the Harry Potter Adventure World and Battle Arena, which is always a plus.
The Verdict
Hermoine and Buckbeak make for a nice addition to the Lego Dimensions collection and at a fairly reasonable price as well. Definitely one for Potter fans and those looking to increase their collection of Dimensions figures…
Score: 8.0
Lego City Fun Pack
With Lego City Undercover finally hitting other consoles besides the Wii U, it's good to see Lego City make it's way to Dimensions as well. This pack gives you Chase McCain who can break silver Lego bricks, put out fires and his detective scanning ability. The Helicopter can fire bolts, but can also be rebuilt into a hovercraft and plane for extra abilities. It also gives you access to the Lego City Adventure World and Battle Arena.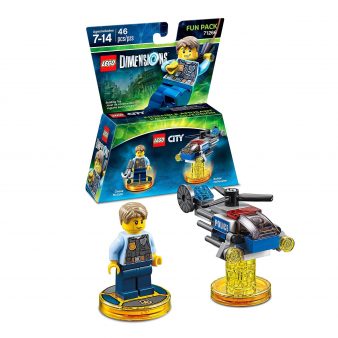 The Helicopter isn't as tough to build, but still a little tricky I have to admit. Both figures are nicely designed and too are fairly reasonable price-wise.
The Verdict
Lego City Fun Pack merges Lego City into Dimensions and is all the better for it. On the whole, this wave of expansions has been impressive and I cannot wait to see what they come up with next.
Score: 8.0