PS4 Review: Kingdoms of Amalur: Re-Reckoning
Reckon this re-reckoning is any good then?

The hit RPG returns! From the minds of the bestselling author R.A. Salvatore, Spawn creator Todd McFarlane, and Elder Scrolls IV: Oblivion lead designer Ken Rolston, comes Kingdoms of Amalur: Re-Reckoning. Remastered with stunning visuals and refined gameplay Re-Reckoning delivers intense, customizable RPG combat inside a sprawling game world. Uncover the secrets of Amalur, from the vibrant city of Rathir to the vast region of Dalentarth to the grim dungeons of the Brigand Hall Caverns. Rescue a world torn apart by a vicious war and control the keys to immortality as the first Warrior ever to be resurrected from the grips of death.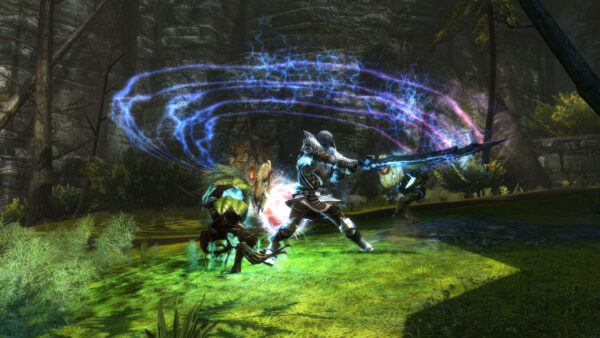 The original Kingdoms of Amalur: Reckoning came out in 2012 on PS3, Xbox 360 and PC to a mixed reception, bankrupting 38 Studios as their only game ever released, but in later years it has amassed a bit of a cult following. It has some great minds behind it as well as the fantastic composer Grant Kirkhope at the helm and although it wasn't the most ground-breaking RPG, it did provide a memorable experience that was honestly underrated back in 2012.
So, I was pleasantly surprised to hear that THQ Nordic have picked up the license and have even released it as a remastered version for PS4 and Xbox One. The remaster includes the original game with all its content as you would expect, it also has improved visuals, a new difficulty mode and quality of life changes to fix some gripes from the original game. I have to say that I'm more than pleased with what's on offer here and while the load times are on the long side, it's a small issue in the end. The game did have tech issues at launch but the developer Kaiko have released patches that have resolved a lot of them, so it seems to be a much better performing game overall now.


The visual upgrade is decent, but not groundbreaking. I'm okay with that, it still looks fairly impressive and runs at a mostly steady framerate. The voice-acting isn't too bad and like I said, the soundtrack has been composed by the legendary Grant Kirkhope of Rare-fame, so it's superb as you would expect.
The Verdict
While it's not the most impressive remaster out there, Re-Reckoning does a decent job in bringing an unappreciated RPG to the current generation with a few new bells and whistles thrown in. Let's hope it revitalises the series into getting a sequel.
Score: 8.5