PS4 Review: Just Dance 2015
Just Dance returns once more, but is it any different this year?

This is the first time I've played Just Dance on anything other than the Wii, so I didn't know what to expect….just make sure you have the PlayStation Camera so you can play, as well as the Move controller if you want a similar set up to the Wii's controls. I have to say, the camera isn't as accurate with detecting movement as say, Kinect…but it still works well, but personally I'd stick to the Move controls this year.
Below is the track list for this year's game:
Tetris- Dancing Bros
Happy- Pharrell Williams
Walk This Way- Run DMC & Aerosmith
I Love It- Icona Pop Ft. Charli XCX
Only You (and You Alone)- Love Letter
The Fox- Ylvis
Summer- Calvin Harris
Holding Out For a Hero- Bonnie Tyler
Love Me Again- John Newman
Burn Ellie- Goulding
She Looks So Perfect- 5 Seconds of Summer
Problem- Ariana Grande ft. Iggy Azalea
4×4 -Miley Cyrus
Love Is All- The Sunlight Shakers
Best Song Ever- One Direction
Bailando- Enrique Iglesias ft. Descember Bueno and Gente de Zona
Built For This- Becky G
You Spin Me Round (Like a Record)- Dead or Alive
Macarena (Bayside Boys Mix)- The Girly Team
Ain't No Mountain High Enough- Martin Gaye ft. Tammi Terrell
Bang Bang- Jessie J ft. Ariana Grande and Nicki Minaj
Black Widow- Iggy Azalea ft. Rita Ora
'Till I Find You- Austin Mahone
Me And My Broken Heart- Rixton
Bad Romance- Lady Gaga
Maps- Maroon 5
Diamonds- Rihanna
Birthday- Katy Perry
Addicted To You- Avicii ft. Audra Mae
As you can see, it's a nice mix between old and new tracks….with the exception of the One Direction song, obviously. It depends on your tastes on what you decide to dance to, although it's almost impossible not to dance to Bad Romance.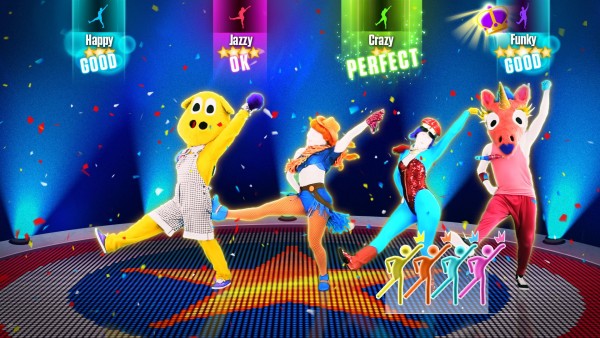 The game itself hasn't changed that much in design; it essentially feels like last year's game with just an updated song list. Having said that, that's not a bad thing since it works well. However, it would have been nice for them to add something new to the table, which it sadly doesn't. The game itself looks crisp on PS4, the dance routines are as colourful as ever and is just a delight to even watch. Now I have two left feet, so I didn't get any high scores but had fun nonetheless.
The Verdict
Just Dance 2015 is more of the same, which isn't all bad. I just wish they'd take a risk with a new mode or something, while improving the accuracy of the camera on the PS4's version. I'd stick to using Move if I were you, but essentially it's good fun regardless of whether you can dance or not and that's all that counts.