PS4 Review: Dissidia: Final Fantasy NT
Dissidia returns, but as we know it?

Calling All Warriors! In partnership with Team Ninja, Square Enix presents Dissidia Final Fantasy NT as the next evolution in squad based brawlers. It's a fast-paced, strategic brawler where you can choose from over 20 iconic Final Fantasy characters and battle in a 3 versus 3 arena with your friends and other players online, or by yourself.


I have fond memories of playing Dissidia on the PSP, but yearned for a console version. Years later I finally got my wish, but is it a case of being careful of what you wish for? Well, this isn't the same beast that we know from the original PSP. For beginners, it's made with the help of Team Ninja and while it feels a familiar experience, it's also fairly different from it's handheld counterpart.
For the most part, the combat is a mixed bag of floating towards your enemies, physics and mechanics are hit and miss, literally. The modes are limited and the online performance is temperamental at the time of writing. I'm sure it will improve but right now, it is a little unpredictable, which is a shame. The big selling point of Dissidia for me was pitting Cloud against Sephiroth, though the actual result isn't as epic as you would imagine.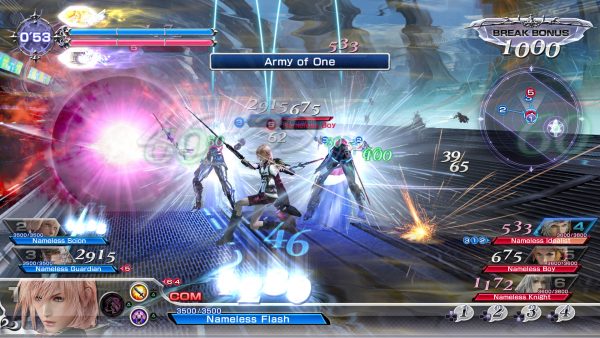 This NT edition of the game is mostly multiplayer focused, but there is a nice single player mode as well. The game's tutorial is a mess though and learning the controls will take some time, let's just say it isn't the easiest game to control and the tutorial does very little to help you.
Visually, NT is a great looking game. The character models for your favourite FF characters are nicely detailed and the surroundings all look superb. It holds at a steady framerate and I didn't see it dip, although I was playing on the PS4 Pro so I'm uncertain if you'll get the same level of performance from the standard PS4. The soundtrack is also decent, while voice-acting should meet the needs of FF fans.
The Verdict
Dissidia Final Fantasy NT is a bit of a mixed bag. It's combat will take some serious getting used to and the tutorial will frustrate you, as will the sometimes glitchy nature of combat and inconsistent online performance. If however, you can look past all that…there remains one addictive brawler that is worthy of the license.
Score: 7.5