PS4 Review: Destiny 2 – Expansion II: Warmind
Can Rasputin draw you back into Destiny 2?

Destiny 2 Expansion II: Warmind continues your Guardian's journey with an all-new story. Ana Bray, a Guardian long thought lost, searches for a connection to her past…one that could be lost forever on the polar ice caps of Mars. As Golden Age warsats begin slamming into the ice, the glaciers begin to thaw, revealing the core of the Warmind Rasputin – and an ancient Hive army bent on its destruction. Now free, the Hive swarm in service to their god Xol. Help Ana discover her past and destroy the Hive's gargantuan worm-god before it is too late.
Features:
– All-new Raid Lair: Spire of Stars
– New themed weapons, armour and gear to earn
– All-new ritual activity: Escalation Protocol
– All-new relic weapon, The Valkyrie Javelin
– New Strikes
– New story missions and adventures
– A new destination set on the polar ice caps of Mars
– Access to multiplayer arenas in Private Matches


Destiny 2 is no stranger to critique from its fans and while Curse of Osiris was a nice add-on, it wasn't on the same level as the likes of The Taken King or Rise of Iron, instead it was more a case of The Dark Below. The same can be said for the 2nd expansion, Warmind which while has a nice amount of content to keep fans playing, it still isn't quite enough to entice back those who felt that the end-game content of the base game wasn't enough.
Warmind's story content should take you a few hours to get through, though you may have to level up a bit before the game will allow you to tackle later missions. The story itself is much better than Rise of Osiris and gives us our first real interaction with the Warmind Rasputin after many, many teases between Destiny 1 and 2. It definitely sets things up for Year 2's content, which will be revealed later today…though I feel it'd be related to the Taken from what I can gather.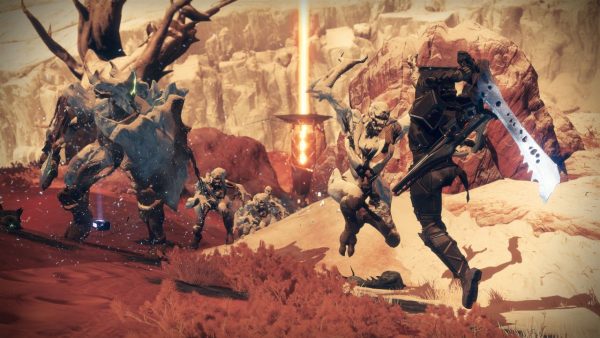 The new raid, strikes and activities are all nice additions and the Javelin is an amazing weapon, especially in the story. Mars is well designed and looks great on PS4 Pro and while you might argue the content doesn't take too long to see, I feel it's still worthy of the price of admission. Sure, they could have added another Raid Lair or even more Strikes, but overall it's a decent amount of content.
The Verdict
Warmind may not entice dismayed fans back, but it does provide some solid content for Destiny 2. Fingers crossed that Year 2's content will do just the trick to win fans back over.
Score: 8.5