PS4 Review: Call of Duty WWII DLC 2: The War Machine
Can the 2nd DLC match the quality of the 1st?

Tensions escalate in DLC Pack 2 for Call of Duty: WWII — The War Machine. Join the Allies and stop the powerful Axis advance in three new Multiplayer maps that illustrate the might and global reach of the Nazi War Machine. Strike back and take part in the Allied invasion of Sicily in Operation Husky, the all new objective-based War Mode mission. Plus, experience the latest Nazi Zombies chapter: The Shadowed Throne.


The War Machine is the second DLC pack for Call of Duty WWII and as with the first, it contains new maps, a new War mission and of course, a new Nazi Zombies chapter. The Shadowed Throne brings our heroes into the heart of Nazi Germany to confront a desperate and murderous regime. Berlin is burning, and Doktor Straub's monstrous army is hellbent on purging his city of the Allied invaders. Join Marie, Drostan, Olivia, and Jefferson on their descent into madness in a city warped with terror, blood, and war, as Nazi Zombies step out from the shadows of history. It's a great addition to the story and like always, it's great to see David Tennant giving it full Scottish, swearing at zombies.
The new War Mode mission is Operation Husky where you join the Allies in the invasion of Sicily, one of the major blows against the Nazi war machine. Under the cover of darkness, gather and transmit intel on sensitive enemy ports and then take to the skies in a fighter plane to protect bomber squadrons on their way to destroy the targets. It's great to see them adding new War missions, which I find to be the highlight of multiplayer besides Prop Hunt. Operation Husky is a great addition and even better than the previous DLC's entry.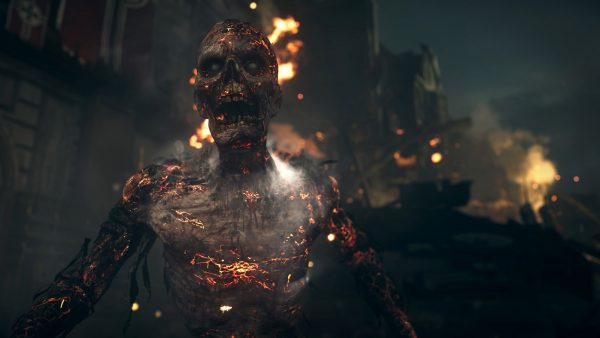 New maps include Dunkirk, Egypt and V2 which is a rocket test site in Germany. These maps are varied in size and carnage but are very well designed and great to look at. The new content runs smoothly with no drops in framerate and is highly detailed.
The Verdict
The War Machine is a great second entry for COD WWII's DLC and worthy of the Season Pass. Let's hope the third DLC pack will keep up the pace.
Score: 9.0