PS4 Review: Big Rumble Boxing: Creed Champions
Does this boxing game have the Eye of the Tiger?

Do you have what it takes to be a champion? Train, fight, and win like Adonis Creed and Rocky Balboa in this knockout boxing game. Are you ready to become a boxing champion? Step into the ring and show off your boxing skills in a knockout arcade experience. Fight as one of 20 iconic characters from the Creed and Rocky movies. Take on world-class opponents across a variety of thrilling locations, or challenge your friends and family in intense, head-to-head matches.


Big Rumble Boxing: Creed Champions is an arcade style boxing game where you can pit classic Rocky and Creed characters against each other. The game has a campaign mode where Rocky is coaching Adonis, but the story is told via text and apart from a comic-book likeness to the actors, there doesn't seem to be any involvement from the likes of Sly Stallone or Michael B. Jordan, which is to be expected. The only real sort of authenticity is the use of the Eye of the Tiger song.
The boxing itself is simplistic but fun and it's great to recreate classic Rocky fights like Rocky v Clubber Lang. There isn't a large variety of different modes and sadly there's no online play, so you can only play multiplayer via friends and family at home. It would have been great to have online matches and it's a real shame not to see it included.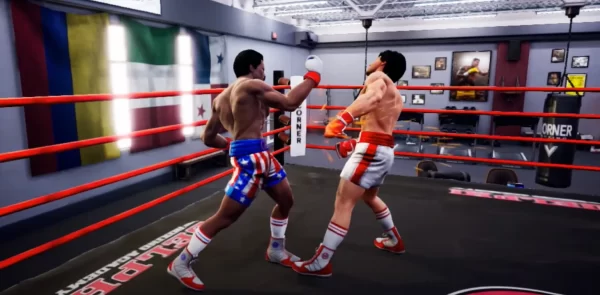 The visuals are decent, and the framerate is consistent. It reminds me of old-school boxing games like Ready 2 Rumble in its look and style, which is no bad thing.
The Verdict
Big Rumble Boxing: Creed Champions makes decent use of the Rocky/Creed licenses with an impressive arcade boxing experience. It's just a shame a lack of modes and online play hold it back from a full KO.
Score: 7.0