PS Vita Review: Table Top Racing
No playing on the dinner table!

Table Top Racing has been out for a little while on mobiles and tablets; it's a free-to-play game on those devices but came with adverts and in-app purchases. The Vita version is cheap and although the ads are gone, the in-app purchases are still there so you can buy in-game coins for real cash to upgrade and customise your vehicles quicker, it's not something I'm fond of in games but at least the option is there for those who don't have as much time to invest.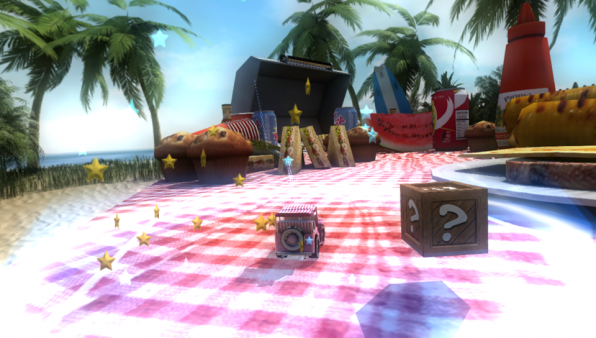 The game itself handles like any standard Kart game, be it Sonic & All-Stars or Mario Kart or Micro Machines, the latter obviously being where the table tracks get their influence from. There are 16 tracks in total, a Championship mode where you can gain 3 stars on a number of different events which can disable weapons, pit you against the clock, and make you hit a speeding car in a short time or just by winning races. There are special events that increase the challenge, as well as drifting challenges…although I wouldn't bother with them till you've got a lot of coins to upgrade what car you are most comfortable with.
The game feels natural to play on Vita; although a word of warning…the rear touch pads show the reverse of the car, so be careful where you place your hands while playing….I honestly thought the game was glitched as it kept switching between front and reverse views during races, which cost me dearly. Weapons include missiles, EMP blasts to bring your opponents to a standstill, explosive mines and there's a speed boost that can push you far across the track.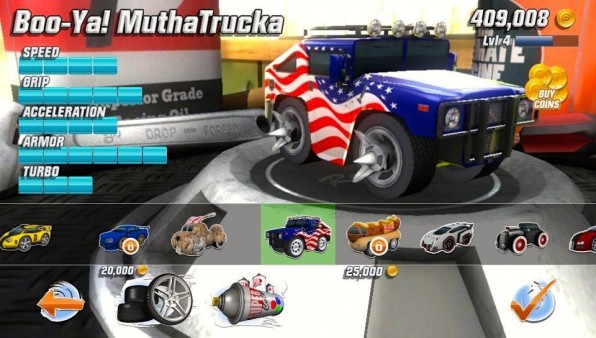 You can also upgrade your vehicle with bonus abilities like a jump move that can be used once a lap or one that increases how many coins you can get in a race, as well as gladiator-type wheels with spikes that make it hard to overtake. Of course, these all cost coins as well so be prepared to earn a lot to get your cars the way you want them.
The tracks themselves are decent and have a good number of shortcuts; also made easier with the jump ability…the only problem is that there aren't enough of them. The championship mode runs out of steam as it recycles the tracks with different objectives and increases the difficulty, but it would be nice to have had some more. There is online play, which is always a plus. I didn't find many matches to be honest, but the ones I did were good fun, although a bit laggy at times. The game looks pretty good for a Vita game, although it's not that different from its other iterations.
The Verdict
Table Top Racing is a good arcade-style kart racer for Vita, the only issues being that the career recycles the tracks too much and the in-app purchases are debatable as you would expect, other than that it's got decent controls, a nice variety of tracks and is just fun to play. It's also Vita's best driving game, although that's not really saying a lot…it still impresses.