Nintendo Switch Review: Mario Kart 8 Deluxe: Booster Course Pass – Wave 2
Can the second wave of MK8D DLC cross the finish line?
Wave 2 includes the Turnip Cup and the Propeller Cup, with fast and familiar courses appearing from the Mario Kart series across the Super NES, Game Boy Advance, Nintendo 64, Nintendo DS, Wii and Mario Kart Tour games. Each course can be played locally or online.
Mario Kart 8 Deluxe's first Wave of the Booster Course Pass was a nice mixture of courses from past Mario Kart games and while the same can be said for Wave 2, it also does include a brand-new track in the form of Sky-High Sundae which is exactly what it sounds like and a good indication that we may see more new tracks in future waves alongside other classic tracks from Mario Kart history.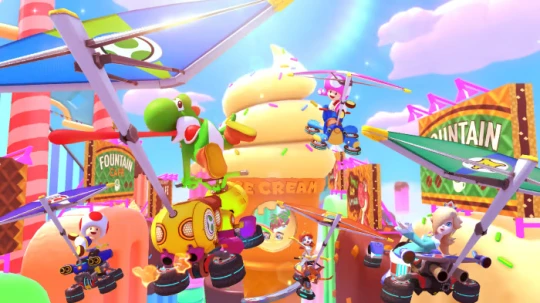 Wave 2 includes New York Minute and Sydney Sprint from Mario Kart Tour, Mario Circuit 3 from Super Mario Kart, Kalimari Desert from Mario Kart 64, Waluigi Pinball from Mario Kart DS, Snow Land from Mario Kart Super Circuit and Mushroom Gorge from Mario Kart Wii. There's a nice mixture here and the Mario Kart 8 mechanics do transform these tracks, especially Mushroom Gorge which now allows you to glide through parts of the section where you had to hop from mushroom to mushroom or fall to your doom.
Out of all the tracks, I think its Waluigi Pinball that definitely deserves a highlight. It looks so vibrant and colourful, it reminds me of a Sonic level like Casino Night Zone and Sky-High Sundae looks like a level from Wreck-it-Ralph with its sweet treats everywhere. It's also a well designed track and one I think fans will enjoy overall.
The Verdict
Tracks like Sky-High Sundae and Waluigi Pinball really stand out here, while the others are also good in their own way. It may not be as diverse as the first Wave, but there's still good quality to be found here.
Score: 8.0