Nintendo Switch Review: Bayonetta 3
The Umbra Witch is back, but can she still deliver the magic?
Bayonetta returns in an all-new, over-the-top climax action game. Sporting a wicked new ensemble and somehow familiar pigtails, the titular Umbra Witch must face a mysterious evil using her signature guns and time-slowing Witch Time ability. Is her foe angel, demon, or something else entirely? Tap into Bayonetta's naughtier side with Demon Masquerade, a new ability that channels the demon linked to her weapon allowing for some exciting action options, not to mention some hair-raising combos. She can also summon her demonic darlings like Gomorrah, Malphas, and Phantasmaraneae during battle, unleashing their demonic powers in the heat of combat and in new, larger-than life battles where you directly control the action. Bayonetta fights bravely in the streets of Tokyo against a mysterious enemy bent on plunging humanity into the depths of chaos. Why is she there? And has the enemy already extended their grasp to other worlds?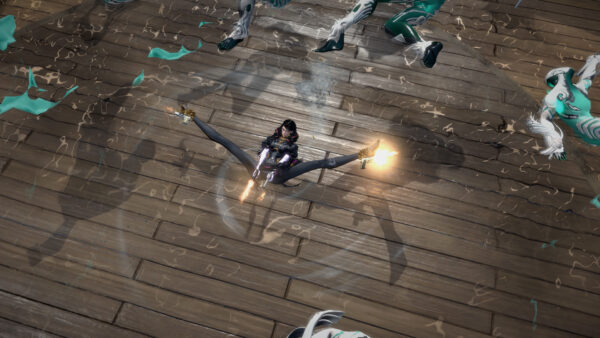 The Bayonetta series has gone from strength to strength over the years, including the Umbra Witch finding herself even in the Super Smash Bros Ultimate roster. The third game felt like it would never materialise but after all this time, but has the wait been worth it?
I'm not going to get into the whole voice-acting argument that begun just before the game launched, since there seems to be a lot of different versions of events and at the end of the day, I'm judging the game on its merit, not whatever dispute may be happening between voice-actors and the developers. So, with that in mind let's move on…
If you've played the original game or its sequel, you'll feel right at home when you begin Bayonetta 3. The cutscenes are littered with crazy action scenes, cheesy one-liners and plenty of cringy moments that the games are famous for, though you can cover Bayonetta up if you don't want to see any hint of partial nudity when she pulls off certain moves either in-game or in cutscenes.
Gameplay will feel familiar to veterans, but its easy enough to pick up for newcomers as well. The combat is fluid and definitely the best in the series to date. There are a few other elements like mini-games and puzzles to contend with and while those aren't as good in terms of quality compared to the past two games, they still have their moments. Level design is pretty good too, though it still doesn't quite hold up as well as the original games.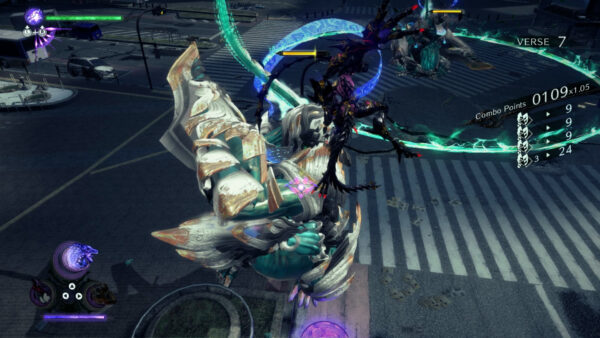 The story itself is a bit of a mixed bag, but it is enjoyable overall. It falls into the "multiverse" trend that is more popular nowadays among films and games, which is fine but it won't be for everyone. The voice-acting itself is done well, Jennifer Hale does an admirable job taking on the role of Bayonetta for the third game regardless of the controversy surrounding the role. The soundtrack is also superb with some killer tunes to fight alongside with.
The visuals are nice but definitely not as strong as you would hope for, especially considering what the Switch is capable of. The framerate has a few issues, but the load times are reasonable. The cutscenes are well detailed and the character models are decent, but it's the actual environments that lack that bit of polish that we've come to expect from the series. The problem is that the first two games made such a high standard that even a good sequel will seem weak, which this is.
The Verdict
Bayonetta 3 is a good follow-up, but it doesn't quite "wow" as much as its predecessors. It was always going to be tough to outdo them and while Bayonetta 3 doesn't quite pull it off, it is still a fantastically addictive game that veterans and newcomers need to play.
Score: 8.0