Nintendo Switch Review: Animal Crossing New Horizons – Happy Home Paradise
Can this DLC expand the game's horizons?
Expand your horizons with DLC and help create vacation homes for clients on resort islands. Clients with different dream vacation requests will visit a new resort area located in an archipelago, made up of several different islands, where the Paradise Planning team is located. You can talk to a client and find out the details of their requests for a vacation home, and then make their dreams happen.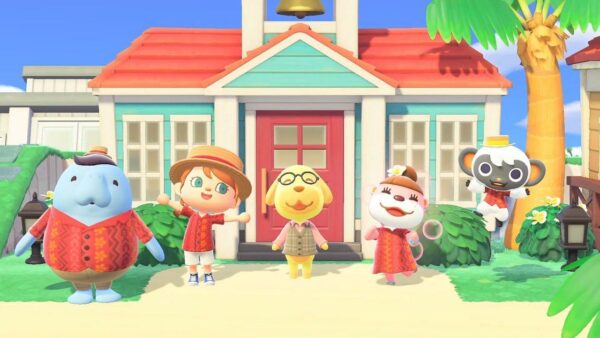 Happy Home Paradise is the first paid content for Animal Crossing: New Horizons, but the game also got it's free 2.0 update which contained a lot of new items and quality of life improvements too. If you decided to subscribe to the Nintendo Switch Online Expansion Pack then you can get Happy Home Paradise at no additional cost, which when combined with the N64/Mega Drive games seems like a pretty good deal…
The DLC adds an archipelago in which you can explore several different islands, meet clients and design their homes based on their requests. You can design everything from the exteriors and interiors, the yard, and even customize the weather to either be sunny or rainy. You can also build a school, restaurant, café, hospital as well as an apparel store. After completing everyone's requests, you can then return home and also edit homes of your villagers back in your own town.
The 2.0 update also adds the return of Brewster and The Roost café in the town museum, but you do need to get Blathers to talk about the idea of opening up a café and then go on a quest to find Brewster. Here is a list of all the 2.0 additions:
General updates
Brewster can now open a café in the museum.
Kapp'n can now offer boat tours.
Gyroids can be unearthed.
Harv's Island can now be upgraded with an open-air market.
Cooking has been added to the game.
Group-stretching can be started in the plaza.
The Resident Representative can now establish ordinances to further customise the island.
Seasonal events can now occur every year.
The limited-time seasonal items from Nook Shopping will continue to be available every year as well.
The software now supports Animal Crossing amiibo cards Series 5.
It's now possible to use all of the Animal Crossing series amiibo to invite characters to Photopia.
The maximum number of designs that can be uploaded to the Custom Designs Portal has been increased to 200.
When dreaming, it's now possible to search for a destination by island name.
It's now possible to store recipe cards in your home storage.
When using the catalogue at Photopia, it's now possible to select different variations of an item by using the X Button if you have obtained different variations of the same item.
A new feature has been added to make it easier to search for stored items when using "Sort: Type" in Decorating Mode while in your home or other locations.
As part of this change, adjustments have also been made to the order in which items are sorted.
The following content has also been added:
Additional items are available for purchase from various retailers like Nook's Cranny and the Able Sisters.
Additional redemption items are available as part of the Nook Mileage program.
Additional limited-time seasonal items will be available from Nook Shopping.
K.K. Slider had more music tracks to share.
New hairstyles and Reactions have been added.
New message-cards options have been added.
New activities have been added to the Nook Mileage / Nook Miles + program.
Home storage can be expanded.
The Verdict
The 2.0 update combined with the Happy Home Paradise DLC really cranks up the content to a huge level, making both essential for players. I've had a blast building new homes in the archipelago and you definitely get your money's worth, regardless of if you pay for the DLC separately or subscribe to the Expansion Pack. This is a great time to be an Animal Crossing player, even after over a year since it's launch you know the journey is still far from over…
Score: 8.5