God of War Limited Edition Loot Crate Announced
Loot Kratos!

New crate to feature exclusive apparel, accessories, replicas, and more developed in collaboration with Sony Interactive Entertainment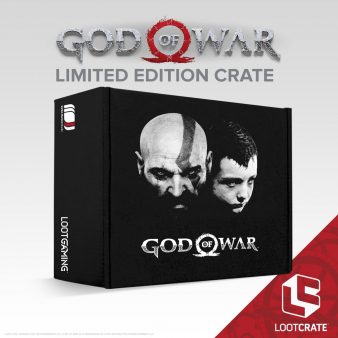 LONDON, February 9th, 2018 — Loot Crate and Sony Interactive Entertainment today announce the new God of War Limited Edition Crate. Officially licensed and developed in collaboration with Sony Interactive Entertainment and Santa Monica Studio, this crate will utilize in-game assets, hand-picked by the legendary icon himself, to create exclusive items that expand upon the gaming experience in Sony Interactive Entertainment's upcoming PlayStation 4 title, God of War.
"The God of War Limited Edition Crate is an opportunity for us to connect fans with one of their most beloved gaming franchises, and is the result of a fantastic creative partnership with Sony Interactive Entertainment and the developers over at Santa Monica Studio," said Chris Davis, CEO of Loot Crate. "Fans of the franchise will be able to expand upon their God of War gaming experience, as elements of this exclusive Limited Edition crate are tied directly to the events in the upcoming game".
The God of War Limited Edition Crate will be a sought after extension of the God of War experience, so prepare to become a warrior by heading over to www.lootcrate.com/godofwar and sign up to be the first to know when sales go live. This Limited Edition crate will be priced at $49.99 (plus shipping and handling) per crate for domestic purchases and $74.99 (includes shipping and handling + VAT) per crate for international purchases.