Two remastered Borderlands games in one package, but is it enough?
I'm fairly new to the Borderlands series, I recently finished the first game and have been going through Telltale's episodic series, but I missed out on Borderlands 2 and the Pre-Sequel…until now, what's great is that as a newcomer to the games I didn't know what to expect other than the rise and fall of Handsome Jack, but is there more to this remaster than meets the eye?


Some might question why 2K/Gearbox didn't just make a Borderlands Trilogy collection; I honestly don't know the answer as I'd love a next-gen version of the original Borderlands. Still, its great value for money as each game will take you roughly 60+ hours to get through and that's without getting all the trophies. The Pre-Sequel was the first of the two I dived into and was stunned by the visual upgrades, although I'm not a huge fan of the zero gravity gameplay and died numerous times because of it.
Borderlands has always been better as a co-op affair and the Handsome Collection is no different. I struggled to get through both games solo, I did…but it took a lot of dying to get there, the difficulty has stepped up a considerable notch from the first game. The formula remains the same with the series in its looting, RPG elements as well as plenty of optional side-quests and impressive main quests, I found Borderlands 2 to be a lot more enjoyable in this regard than the Pre-Sequel, but overall I found that pretty fun too.


It's the characters you come across that are truly memorable in the series, from Handsome Jack to Mad Moxxi; each has their own unique personality that stands out from the crowd. It's great to have both games looking as good as they do, the Pre-Sequel has some small framerate issues and texture loading ones too, but they seem to have already improved since launch and I hope they continue to improve further.
The Verdict
Overall, the Handsome Collection is a steal at its price tag of £45. There's hundreds of hours of content between the two, it's highly enjoyable from start to finish and while it'd be nice to see Borderlands 1 getting added to the mix, it's still an impressive collection and a worthy remaster for any fan or newcomer.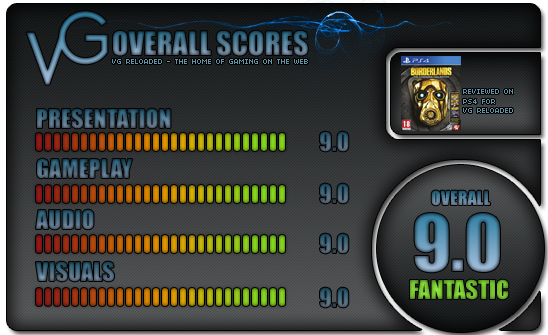 How far does Max's new power go?
Read more
Should you go on this odyssey once more?
Read more
Does Episode 4 end the series with a bang or a whimper?
Read more
Dragons make their Telltale debut, Oh and so does the Purple Wedding…
Read more
Has the 3 month wait been worth it?
Read more
More than just another HD Remaster?
Read more
As the final episode draws near, Episode 3 delivers a chilling cliffhanger…
Spoiler Alert for those who haven't yet finished Episode 2.
Well, I personally didn't see THAT coming. Albert Wesker's sister, Alex revealed herself to be the Overseer behind the project on the isolated island and while the story of Claire and Moira continues with another twist to the Terra Save plot, its Barry and Natalia's episode that really delivers with some shock moments and one that I didn't see coming and leaves you wondering where the story can go from here. I guess I'll have to wait to finish the final episode to find out.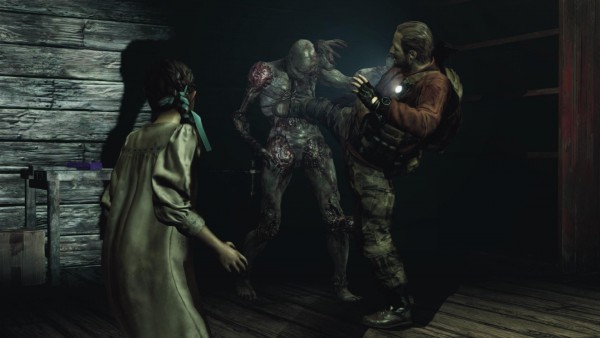 Overall, it's definitely the strongest episode so far. The quality has kept improving week after week and while each episode hasn't shaken up the formula too much, it's comfortable with keeping it familiar. My only problem with the third episode is the area in the abandoned quarry which sees Barry and Natalia move power supplies over conveyer belts; I found it frustrating to say the least. It's the only area in the entire game so far where I felt it was a chore to get through.
Enemy types are more or less the same, but they do throw a few new ones occasionally throughout the episodes, which throws a curveball at the player. Including the odd boss battle as in this one told through Claire's episode. It's a bit of a predictable fight, but an interesting one nonetheless.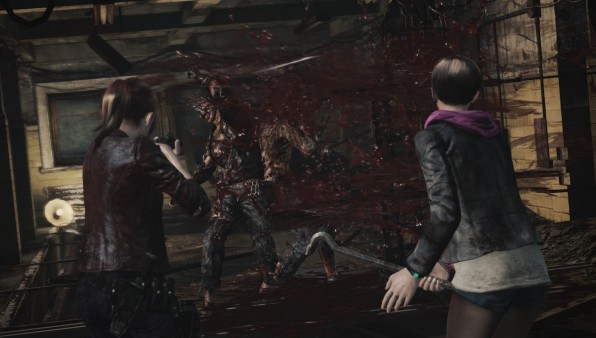 Visually, the areas are more varied in this episode and the framerate is just as steady as in past entries. Voice acting is as you would expect with the odd corny line thrown in, it wouldn't be Resident Evil without them after all.
The Verdict
On the whole, it's hard to judge this episode without seeing through the final entry to see if the past ones leading up to it were worth the wait, but overall it's an episode full of the game's namesake "Revelations" and one that will keep me playing till I finally finish the story.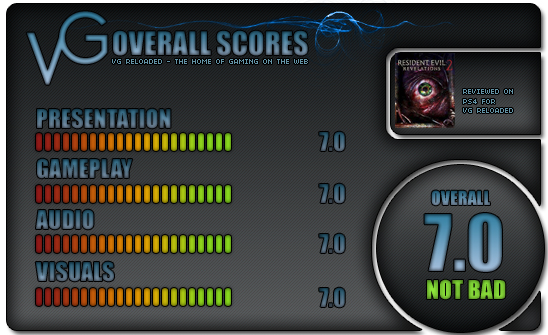 Can Barry save Moira?
Read more
September 1st Worldwide, with Collector's Edition also announced!
Read more